The co-founder of Whatsapp has taken to Twitter to urge everyone to delete their Facebook profiles tweeting: 'It is time. #deletefacebook'.
The hashtag has been trending amid outrage over Facebook's links to controversial data firm Cambridge Analytica and its handling of personal data.
Brian Acton joining in with the campaign is significant because Acton sold his own company Whatsapp to Facebook for $19 billion in 2014 – making it the largest acquisition deal in Facebook's history.
The Californian-based entrepreneur's apparent advocacy for people to remove their profiles comes as Facebook faces pressure to explain its privacy safeguards to regulators and politicians in the US and UK.
A British firm called Cambridge Analytica (CA) was suspended from Facebook last week after it emerged that data on 50 million users had not been destroyed as previously agreed.
Facebook's stock has since fallen by 10%, and the hashtag has been trending among users for the last few days.
Acton was at WhatsApp for several years before leaving to start the Signal Foundation earlier this year.
Prior to starting the incredibly popular messaging app, he had actually applied for a job at Facebook in 2009 but got rejected.
'Facebook turned me down. It was a great opportunity to connect with some fantastic people. Looking forward to life's next adventure', he tweeted  at the time.
According to Forbes, Acton held over 20 per cent stake in the company when it was sold, making him personally worth around $3.8 billion (£2.7 billion).
Now the company is one of the biggest mobile messaging apps with 1.3 billion active monthly users.
The WhatsApp founder has around 21,000 followers on Twitter and it is not clear if he still has an account on Facebook.
Earlier this week, Facebook founder Mark Zuckerberg was called on to explain the company's data protection procedures to MPs in person. It is not yet known whether he will in fact appear, or send someone on his behalf.
So, who is Brian Acton?
Brian Acton is the founder of WhatsApp which was acquired by Facebook for $19 billion (£11.4 billion) in 2014 – the largest deal in Facebook's history.
According to Forbes, Acton held over 20 per cent stake in the company, making him worth around $3.8 billion (£2.7 billion).
Following Facebook's acquisition of WhatsApp, Acton donated nearly $290 million (£206 million) to the Silicon Valley Community Foundation.
Acton is now believed to be worth $5.5 billion (£3.9 billion) and works at Signal Foundation, which he founded earlier this year.
The aim of the non-profit organisation is 'to develop open source privacy technology that protects free expression and enables secure global communication.'
Back to Facebook
Damian Collins, the British chairman of the Digital, Culture, Media and Sport Committee wrote to Mr Zuckerberg on Tuesday requesting that the firm explains the 'catastrophic' failure.
The data firm suspended its chief executive, Alexander Nix, after recordings emerged of him making a series of controversial claims, including boasts that CA had a pivotal role in the election of Donald Trump.
On Monday, Downing Street released a statement calling the Facebook breach 'very concerning', while MPs in the House of Commons voiced their concerns over interference in democracy.
Twenty-four hours later, Information Commissioner Elizabeth Denham, who is investigating the use of personal data for political campaigns, confirmed she was seeking a warrant to access CA's systems after the firm failed to respond to an earlier demand.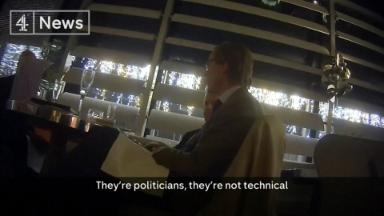 Meanwhile in a statement, the CA board said that Mr Nix had been suspended 'with immediate effect, pending a full, independent investigation'.
It said comments by Mr Nix recorded in secret filming by the UK's Channel 4 News and 'other allegations' did not represent 'the values or operations of the firm' and that his suspension 'reflects the seriousness with which we view this violation'.
Every single interaction on Facebook generates data, while users volunteer some information in their profile like their hometown and birthday – to make it easier for friends to find them, or so they can inform them when their birthday is.
Other data could be about interests gleaned from publicly 'liking' content, while Facebook also knows where users log on to its site from, the device they use, and which ads they click on.
Users can see what info is shared with any app, and there are options to delete, limit the information each app can access and remove info collected by the app.
Deleting an app may still allow the developer to retain some of a user's personal information.
WhatsApp has itself been the subject of criticism by governments and security services in recent years for providing a means for criminals and terrorists to evade surveillance.
In February, Mr Acton launched the Signal Foundation, a nonprofit developing technology that 'protects free expression and enables secure global communication'.
So, how do I delete my personal information from Facebook?
Click on the 'help' button on the top right hand corner of your Facebook page.
There is a search bar that says 'How can we help?'. Type in 'delete account'.
This will link you to Facebook's Delete Account page, where you will need to select 'Delete My Account' and enter your login credentials.
'If you do not think you will use Facebook again and would like your account deleted, we can take care of this for you', the message reads.
'Keep in mind that you will not be able to reactivate your account or retrieve any of the content or information you have added.'
After two weeks, Facebook will begin the process of deleting all your data from the site, which may take up to 90 days.
If you want to keep your personal data you need to download it before deleting your account.
To download your archive go to 'Settings' and click 'Download a copy of your Facebook data' at the General Account Settings tap.
Then click 'Start My Archive'.
I hope you've found this helpful. Do you have any plan to delete Facebook? Or do you see a future for the site? Let us know your thoughts in the comments!