It's everybody's (okay… most people's) favourite time of the year… Wedding Season! And unfortunately for million's of this years blushing brides, there's one particular wedding that's on everybody's mind… the wedding of the British Royal Family's youngest prince, Harry, to American actress Meghan Markle. Now, there's two major reason's why this particular royal wedding is going to be such a big deal; 1) Because Meghan Markle is the first American to marry into the royal family since the 1930's and 2) Because to be completely honest, no one thought Harry would ever freakin' settle down… so that in itself is a great reason to celebrate.
Either way, you just know you're going to run into someone who's going to want to talk about the whole thing for the next year or so (In fact, people are still talking about the wedding of Kate and William, and that happened 7 years ago) So why not get clued up about it now while you can?
Scroll down and find out everything you need to (even if you don't want to) know about Britain's next Royal Wedding.
When is the royal wedding of 2018 happening?
One December 15th 2017 the Kensington Palace Twitter account (Yes… obviously Kensington Palace has it's own Twitter account) confirmed that the chosen date for the upcoming royal nuptials is May 19th 2018… so there's still time to buy a really fancy hat ladies! May 19th falls on a Saturday, which completely goes against the British tradition of Royal weddings taking place on a weekday. Kate and Harry got married on a Friday, and the Queen herself got married on a Thursday. Classic Harry… always has to be a little bit of a rebel.
The invitations however are a different story, they're being made by Barnard Westwood, which does follow many years of royal tradition. They'll be printed using American ink onto English card in gold and black, then burnished and gilded around the edge. And of course… The three-feathered badge of the Prince of Wales will be given pride of place in the centre.
Will everyone get the day off for the royal wedding 2018?
The short answer? NO. Traditionally the people of Britain would have the day off when a royal wedding was occurring, however, seeing as Harry and Meghan will be getting married on a Saturday, It means no extra day off for anybody. Yeah… I bet the people of Britain are really happy about that one. It's not all a loss though, as rumour has it the local "Pub" closing times will be extended until 1am in order to enjoy the festivities longer… so… it's not a total loss I guess, right Brits?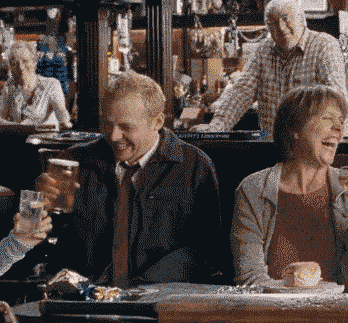 Where will the royal wedding 2018 take place?
The royal extravaganza will take place at St George's Chapel at Windsor Castle at 12pm (gotta get that beauty sleep in after all). They've also been granted special permission by the Queen to hold it in a place of worship and the core aspects of the wedding (flowers, service, music, reception etc) will all be paid for by the royal family. St. George's Chapel at Windsor Castle is said to seat around 800 people, however it is said that only 600 people will be in attendance on the day. This is a pretty small crowd compared Kate and William, who had nearly 2000 guests present on their big day.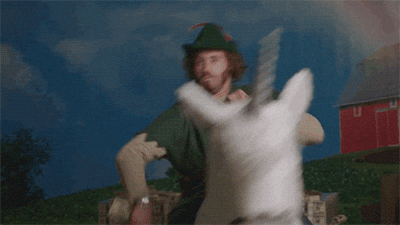 Who will be in attendance?
Since Prince Harry is sixth in line to the throne (for now), he isn't obliged to diplomats from all over the world as this particular royal wedding will be less of a state occasion.
Some of the guests (who were selected by regional Lord Lieutenant offices from a broad range of backgrounds and age groups) have been announced on Twitter along with the stories of how they have served their communities. A nice touch, right?
Alexi Lubomirski will be taking official wedding photographs at Windsor Castle before, during and after the wedding. Harry and Meghan will undertake a carriage procession from St George's Chapel through Windsor town returning to Windsor Castle along the Long Walk, which they hope will help other people from around the city (or if past royal wedding turnouts are anything to go by, the world) feel more involved in the occasion and will allow them to enjoy the atmosphere and festivities of this magical day.
Meghan herself is reportedly planning her own speech at the reception, should her father Thomas Markle choose not to speak. Mr Markle (an award-winning director who now lives in Mexico – quite an impressive resume), is expected to walk his daughter down the aisle, but may not make a formal speech in front of hundreds of guests and senior members of the royal family… er, yeah, to be honest Mr. Markle, we don't freakin' blame you.
Who will design Meghan Markle's wedding dress?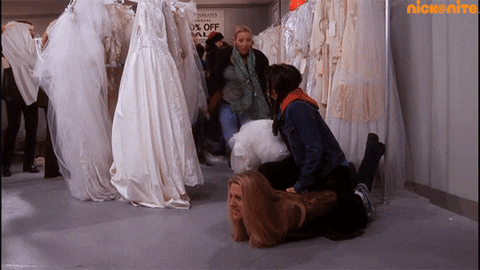 Of course, the most important topic of the royal wedding (and any wedding, for that matter) is… WHAT IS THE DRESS GOING TO LOOK LIKE? A royal wedding dress is arguably the biggest fashion commission of the year, so who's going to get the honour of designing it? Well, Meghan has so far accumulated a handful of Canadian designers, a country she has called home for 7 years while filming the U.S. hit Suits, but also London Fashion Week designers Erdem and Antonio Berardi along with American labels Marchesa and Misha Nonoo… talk about royal problems.
"The princess-to-be seems to have a lot of personality, which is what royalty should be about," Vogue fashion critic Anders Christian Madsen shared, "so I would love to see her in something brave and daring on her wedding day" This all sounds great and everything, but personally, I think she should go for a more old school approach;
No? Just me? Okay then…
Who will Meghan's bridesmaids be?
I think it's stressful enough picking bridesmaid out for a standard wedding, never mind a royal one. As a well-known former actress, Meghan's famous friends list must be a mile long… but who's on top? Well, infamous cutie-pie Prince George and adorable little Princess Charlotte are more than likely to be Page Boy and Flower Girl, so who's up for the coveted bridesmaids position?
Long time friend and tennis champion Serena Williams has been suggested as a potential bridesmaid, along with fellow actress Priyanka Chopra who has recently appeared in last years Baywatch revamp film staring Dwayne "The Rock" Johnson and everyone's imaginary boyfriend, Zac Efron. However due to the recent deletion of Meghan's Instagram account, it's harder to track her current close friendships… I don't know about you but I will happily volunteer if nobody else is available.
So there we have it, everything you didn't know you needed to know about the upcoming royal nuptials. Are you a fan of the UK's royalest family? Will you be watching the event from the comfort of your own home while eating home-baked treats off of plates adorned with the royal couples faces? Or do you have better things to do with your time? Let me know in the comments!