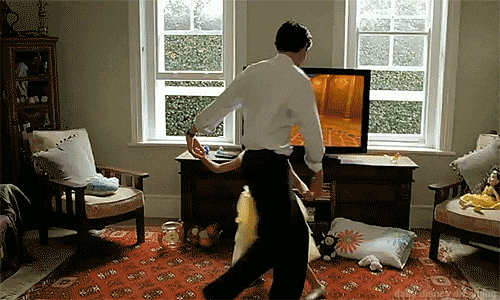 Dads, what would we do without them eh? They come in all shapes and sizes, some are tall, some are short, some are round, some are hairy, some love to cook and others love to sit and watch their favorite sports team for hours on end… and most just love to embarrass their kids at any given chance. Either way, no matter what they love to do and whatever they look like, Dads are pretty golden people, and these few Dads below (photographed by the very talented Giedre Gomes) are no exception!
The Flawless Dad
We may only be one in so far, but I think this is already my favorite out of the series! Not just because he's happily sitting there while his two daughters make him "look pretty"
But also because while they're doing this, his two sons are also there watching their Dad being coated in make-up, and they're seeing how completely fine with it he is. What an incredible example to set for his kids!
The Princess Dads
Another amazing example being set by these two Dads here!
They're showing their Little Princess that it's totally okay for men to be Princess' too. I love how they're letting her paint their nails!
Men can dress up in tiaras without it being an indication of their "masculinity", what an empowering message to pass onto their little girl.
The Work-Out Dad
But of course, it's not all about Dads setting good examples for their daughters; it's equally important for them to set examples for their sons too!
Like this Dad, who's including his son in his daily work out routine. It's so important to keep fit an healthy, and the earlier you learn this in the life the easier the habit will become later on… also he looks freakin' adorable doing it too!
The Fisherman Dad
It's no secret that whenever you think of a Dad going fishing with his kids, you picture it with sons, that's just the society we've been brought up in!
So I love that this Dad has introduced his little girl into the wonderful world of fishing because hey, girls like fish too! And besides, just look at how happy she is to be there! 10/10 for Dadding right there.
The Potty Training Dad
This is just so so cute. They always say that when you have kids you'll often end up with mini-me, and it looks as though this Dad was lucky enough to get two of them! Who knew using the toilet could be such a great bonding experience!
And hey, even Dads deserve a little break sometimes too. He can catch up on the news and have a beer while the kids entertain themselves… we all know Moms do the same with a cheeky glass of wine!
The "At Least I Tried" Dad
This Dad seems to be trying really hard to teach his kids the fine art of playing Uno… and er, it seems to be going really, really well.
Sometimes the best thing to do is just roll over and accept defeat… or y'know take a well-earned nap while the kids entertain themselves for a little while.
The Multitasking Dad
Who says Parenthood means you don't have time to do anything fun anymore? Take a leaf out of this Dad's book, you can still do what you love and be a great parent at the same time! It's all about the multitasking.
Although somethings you really can't multitask, and that's okay. He still looks like he's enjoying himself either way… look at those two little bubble cuties!!
The "Priorities" Dads

This Dad knows whats going on. He knows that in a few years time he'll be opening up his very own "Dad's Cab Service" due to chauffering his little angels wherever they want to go, so he may as well take advantage of the situation while he can!
One of the joys of being the parent is knowing when to be a leader, and when to sit back and allow things to happen. This is a prime example of a Dad leading the way, just look at that adorable cycling formation
And this Dad, who knows a bottle for the kids means a bottle for him too! My Dad actually used to do this with me when I was that age, except my bottles, were always filled with tea, not just milk! This is such a pure image.
The "Traditional" Dad
I feel this is one of the more "traditional" Dads we've seen so far, and by that I mean by a societal point of view… y'know, just a bit more masculine (whatever that actually means).
Peeing outdoors, eating pizza with the buys… it's just as important to bring your kids up to know that's it's okay to embrace that side of you as well. Let men be men, after all!
Swimming is also a very important skill to teach your children too, and teach them young! I love the dynamic of this photograph. Learning to swim is one of the scariest things you go through when you're a kid, but just look at the smiles on those faces! They obviously feel very safe in the hands of their Dad, even when surrounded by water!
The Work and Play Dad
Another outstanding example of a very talented multitasking Dad. Who says parenting has to be all work and no play? Not this Dad that's for sure!
At the end of the day, having kids is all about the balance; some work, some play, some at the same time, some, one after the other. But hey, he still looks as happy changing his little girl's diaper as he did gaming on his console, and that's the most important thing!
The "Oh Damn I Really Don't Want To Do This But I Will Because I Love My Kid" Dad
They say a picture says a thousand worth and this one is definitely no exception. Folks, we've all been there, the dreaded diaper change. The initial fear of never knowing what you may find when you undo those tabs, how large the amount will be, what horrors await you down there, and not to mention… the smell. But it has to be done, and even though this Dad looks like he'd literally rather be anywhere else on the planet, he pushes through it for the sake of his child.
But it won't be forever! Always remember that. Soon they'll be potty trained and this portion of your life will be over (well, to that extent at least). And anyway, remember, they may have to do that for you one day too, so you wanna make sure they know who was there to change theirs when they needed it
The Proud Dad
It's always good to teach your kids sports, not just because it's good for them to keep active, but also because there are valuable lessons to be taught in regards to good sportsmanship and being a team player too.
And who knows? Maybe one day they'll get the knack for it, realize they love to do it, join the school sports team, become captain, be offered a scholarship based on their performance and be scouted by a big-league recruiter and one day make you millions!!!! Okay well, I said maybe. But for now, at least, it's a great bonding exercise! And you'll always be proud no matter what!
Wasn't that a simply wonderful photo series? In all honesty, it's made me a little emotional! *sniff*, What did you folks think? Did you have a favorite photograph? Let me know in the comments and don't forget to like and share this with all your friends and family! AA x