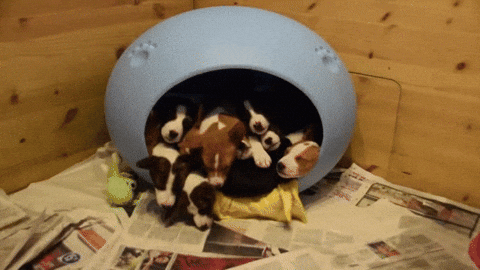 Wonderful architects, designers and artists from across the globe have joined together in all their glory to take part in a project called "BowWow Haus" which aims to raise funds in aid of the well-being for homeless animals. Their task was to design unique dog houses and shelters as part of a new exhibition which opens to the public on 26th April in several London venues, and will then later be available to purchase at a charity auction or via online bids.
This is all in collaboration with the Blue Cross, a pet charity that has been helping sick, injured, abandoned and homeless animals since 1897 as well as the American not-for-profit organization Outdoor Arts Foundation, which supports community-based creative engagement, and photographer Drew Gardner, meaning that every penny collected during the exhibition will got towards hopefully making the lives of hundreds of animals a little bit easier.
What an amazing cause! But the real question is… which one would you bid on? Have a scroll down and pick your favourite!
disclaimer: adorable doggies not included.
1. A Mosaic Teepee by Natalie Guy

This is definitely a work of art! I love how the mosaic flowers reflect different colours in the light.
2. The Golden Egg by FT Architects
This is definitely a personal favourite of mine, I could totally see it in the corner of my living room… just look at that shine!
3. The Wooden Cube with Squiggly Cut-outs by Hasan A-Rashid
Simple yet fun, and with plenty of room for your little pupper or doggo!
4. The Ball House by Drew Denizen
I love this crazy design! Although I don't think I'd be able to use this one for my dog personally… he'd keep trying to break the walls to get to the balls!
5. This Mosaic Rainbow House by Sue Penrose
This is such a great design! It has a very stained-glass window effect and the colours go amazingly together. Look at how happy that doggy is!
6. This Wooden Arched Kennel by Chris Dyson
Heck, I think even I would sleep in this one, it looks so cosy! I especially love the stairs and the bowls on either side.
7. This Little Wooden House by Brian O Tuama
This design looks very functional, I love that it has hooks for lead and toys and a space to put your doggy bowls in the back!
8. This Big Wooden Bag by Studio Lisboeta
Another wacky design but with a great effect, and it looks like there may be a little ledge on the inside for your doggy to sleep on… so cute!
9. This Hubcap Kennel by Ptolemy Elrington
This one would definitely make you look twice and wonder if a car crash had recently happened in your back garden, but gold stars for originality!
10. This Doggy Sculpture Kennel by Serena del a Hey
What better way to honour your beloved pet than to give them a home with a sculpture of them sitting on top of it? Amazing!
11. This Oceanic Mosaic Kennel by Tamara Froud
Another great mosaic design , I love all the varying shade of blues and greens used.
12. This Wedding Cake Kennel by Jeff Monsein
Imagine rolling this out on your actual wedding day… pup included! Such a great idea and it looks so… delicious!
13. This Mosaic Temple by Ivan Djidjev
A shrine to your ultimate loved one… what could be better? The detail in this design is absolutely beautiful. That is one happy doggy!
14. This Contemporary Storage Container Kennel by Roselind Wilson
Great colours, great shape. Looks very cosy, safe and dark inside! Perfect for catching an afternoon snooze.
15. This Recycled Plastic Doghouse by Sparks Architects
This doghouse looks like so much fun! And maybe foldable too? Great for when you and your doggy want to hit the road and go on an adventure together!
16. This Multi-Way Shelter by Barbara Irakoska
This ingenious shelter has multiple ways in which your pupper can relax… and whichever way you choose it still looks great!
17. This Kable by Plyable
Not only does this design look cool but it is also multifunctional… it turns into a table!
18. This Cloud Kennel by Zaha Hadid
I love the name of this design, "The Cloud", looks just as comfortable as one too! A sphere fit for any pooch.
19. The Doggle Box by DLM Architects
Great name, great design, and although you can't see it in this picture the back of this design is covered in little doggy paw print! I also love the door handles too.
20. The Dog Pod by TLA Studio and Louise Glazebook
How gorgeous is this? I love all the different colours and the fact that it can be closed down flat!
21. The PiM.dog by PiM Studio
This is a really great and versatile design which can be turned on each of it's sides and give your pooch various ways of getting in and out. Hours of fun for all!
22. And This Wooden Bars Kennel by Collective
And last but by no means least, this eye-pleasing wooden doghouse which features it's own little bench and food/water storage facilities!
So there we have it, 22 amazingly unique doghouses and shelters fit for even the most precious pooch, and whats even better is the fact they've all been created in support of a great cause! So what do you think… will you be there on auction day? Did you have a favourite? Would your pooch love or hate these? Or maybe you already have a wacky doghouse for your best friend at home. Either way let us know in the comments… and happy bidding!