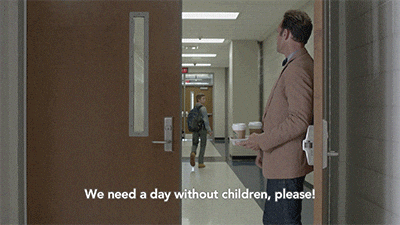 Here at Aunty Acid, we like to recognize heroes… and no, I don't mean the ones you usually see on the big screen wearing brightly-colored lycra suits and capes! I'm talking about our unsung, daily heroes, who go about their business day to day without accolades and constant praise… in fact most days they get no praise at all! And which heroes could I possibly be talking about you may ask?
Well, some of the most underappreciated heroes of today… teachers, of course!
You Can't Spell Teacher Without Tea!
It's true, you really CAN'T spell Teachers without Tea… and I bet you most teachers can't TEACH without tea either! So what better way to show your little monster's teachers just how much you appreciate them than to get them their very own personalized mug, so they can start their day off right with their favorite magical elixir?
You can easily buy this fabulous mug using the link below!
Aunty Acid Teacher Without Tea Personalised Mug
"I Do This For The Money!" Said No Teacher Ever
It's no secret that our wonderful teachers are paid mere buttons… they're some of the few people in the world who actually work for the love of their jobs! (And… okay… maybe the holidays too), so why not let them know you acknowledge and appreciate that fact by getting them their own hilarious personalized mug? Afterall… laughter is the greatest form of payment, right?
Buy this brilliant mug for your scallywags teacher by using the link below! 
Aunty Acid I Do This Personalised Mug
May Your Coffee Be Strong And Your Students Be Calm
This one is my personal FAVORITE! In a perfect world, this would be the case for every teacher, surely! So why not gift a teacher you know with this optimistic blessing? It may not always happen but, hey, it's the thought that counts right? And not to mention… coffee ALWAYS helps!
You can buy this mug of hope and good wishes using the link below!
Aunty Acid Students Be Calm Personalised Mug
Don't Make Me Use My Teacher Voice!
What a better way to help your fellow teachers out than to plaster a warning to ALL students on their new favorite daily mug? Who knows, it may save them a lot of… well okay, maybe a little of completley neccessary shouting dueing their long school days. Actually… maybe I should get one of these myself to use around the house?
Buy this hilarious pre-warning mug using the link below! Yes, it's THAT easy!
Aunty Acid Teacher Voice Personalised Mug
I Teach, What's Your Super Power?

And last but not least, the ultimate accolade for our superhero teachers; I mug that displays just how darn fabulous they really are! You can keep your invisbility and your flying, deep down we all know that teaching is one of the very few true superpowers, especially these days!
Buy this heart warming mug by using the link below, and show your favourite teacher just how much you appreciate them today!