Everybody has their own individual sense of style, and fashion can mean many things to many people.
One guy who feels powerful slipping on his suit wouldn't be able to relate to the man who feels self-conscious in a suit. Just like some girls love a high pair of heels, whereas others are way more comfortable in flats.
Lots of people do fashion in lots of different ways, but there are some rules that apply to everybody!
Take a look through these simple pointers, and never have a bad clothing day ever again!
1. Fellers, always close the middle button on your suit jacket!
You can choose to keep the top button open or closed, but the lower one shouldn't be closed. If your jacket has two buttons, always close the top one when you're standing and open it when seated. And if it has one button… well, duh.
2. Too much jewelry can look tacky
Especially if it happens to be matching jewelry! So why not wear earrings that match your bracelet, but then ditch the matching necklace? Or even the other way around! Just steer clear of wearing a matching bracelet, necklace, earrings, rings and so on. That's just overkill!
3. Guys and their ties!
Always go with the rule that the bottom tip of your tie should not only reach your waist, but actually go a little bit further past it. Anything above that is considered too short and you'll look like a schoolboy. But longer than this, near your crotch, equally looks sloppy and goofy.
Bet you didn't know your tie had to fit properly!
4. Wearing a button up dress shirt without a tie? You don't need a jacket!
Putting a tie on with a shirt and a pair of smart pants just makes it look like you're missing your jacket.
5. If you tuck your shirt into your pants, wear a belt!
Generally wearing a shirt and smart trousers means you should tuck it in. If you're wearing a shirt with jeans for a more casual look, either tuck them in with a belt to smarten your appearance, or leave it untucked.
6. Your belt should be the same color as your shoes
This isn't exactly a hard and fast rule; if you're wearing brown shoes for example, you don't need to go through the bother of matching the exact shade of brown. Just try to steer clear of a brown belt with black shoes.
7. Remember to remove all clothing tags from your purchases!
Sometimes clothing brands can place tags in some really weird places. Try checking yourself out in the mirror, or better still have somebody else give you a once over before you leave the house!
8. On that note, ALWAYS look in the mirror before you leave home!

Never leave the house until you like what you see in your mirror. Clothing wise, anyway.
9. Don't wear too many clashing prints
Off of the catwalk, it will just make you look like quilted upholstery. That's a look that NOBODY is going for!
10. Show skin strategically

There's just one simple rule you have to remember; if your outfit reveals your cleavage, don't show off your legs too. If it shows your legs, don't show cleavage! Easy, right?
11. Pay attention to labels
Not just fashion labels! Did you know the secret formula for a soft but formfitting T shirt is 95% Cotton, 5% Lycra spandex? Similarly, for jeans to hold their shape, they need at least 2% Lycra; know your stretch to look your best!
12. When it comes to denim, round down in sizes.

If in doubt, go with a size smaller in jeans. They always stretch, and nothing's more unflattering than jeans that look unintentionally baggy and loose.
13. Wearing white?

Always bear in mind that white clothes usually look more see-through in daylight, so your should try to check yourself out in a bright setting before you leave the house. You don't want people to see your underwear – or worse – on the street!
14. Upgrade your buttons

Sometimes, the only giveaway that a jacket isn't a designer label can be its fastenings. So get the high end look at a fraction of the price by picking up some jazzy buttons at a haberdashery and swap them in yourself, or have a tailor do it. Speaking of which…
15. Make friends with a good tailor

Nothing upgrades moderately priced clothes in quality more than having them altered to suit your exact measurements. If you don't know a tailor already, look some up and start using one often. Once you've become one of their regulars, you'll wonder how you ever got by without them!
16. Never buy a boring coat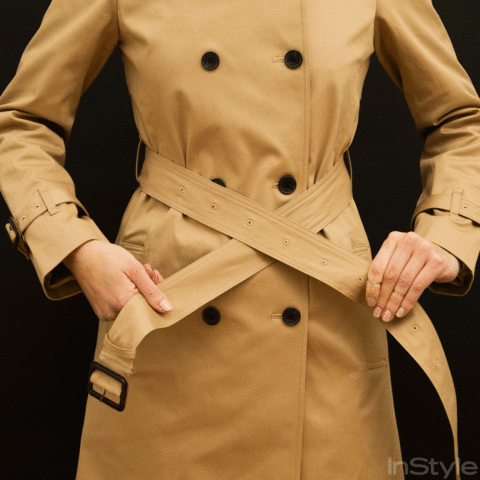 Just think about how many people every day only ever see you in your coat. If you're not putting your best foot forward in a stylish jacket, you could be wearing the greatest outfit in the world, but lots of people will never even know!
17. Only buy a bargain if you really love it

Just because there's a voice in your head telling you that you've got to buy that cheap thing you found because it's 'only' $39 doesn't mean you should listen to it. We've all had that feeling that if you don't scoop the bargain you found now, you'll never find it again. Just think whether you REALLY want it, or if you're just buying it because of the price, and you would be better off saving your money for something you actually want.
18. Keep an emergency stylist kit with you at all times, or even in your car

Try double sided tape for loose hems, a Tide To Go eraser pen for getting spilled wine off white clothes and safety pins for general damage control.
Then you could even include things like a bra clip to control underwear straps, a lint brush or roller to run over your coat to keep it looking crisp, or a makeup sponge for removing unsightly deodorant stains.
19. Always pair loose with tight

Just like almost nobody can pull off a head-to-toe baggy look, don't go for an all over skinny fit look either. So maybe try something loose and billowing on top with skinny jeans or perhaps leggings on bottom!
20. Check the rise on your trouser

On a well fitted pair of trousers, the distance between the crotch and the waistband is critical. One reason for this is because it's not something that's easily altered, so if it doesn't fit in this area off the rail, you might want to put them back and walk away. Just make sure pants aren't too snug or too droopy in this area before you buy them.
21. Do a Cashmere quality test

A great quality Cashmere jumper is a worthwhile investment for any wardrobe, whether you're male or female. But before you take what can be quite a costly plunge, make sure you're getting the quality you expect with these helpful hints!
The thicker the sweater's knit, the denser the gauge of its wool, which means there is more Cashmere in it. Before buying the garment, gently stretch the body of the sweater to test if it snaps back into shape, because a lower-quality cashmere won't. Finally, check the label as the best Cashmere will say 'Made In Scotland' or 'Made In Italy'. Some good quality Cashmere is milled in the US and China, but these places offer the best quality generally.
What do you think of these fashion tips? Are you going to take any of them up, or perhaps you have some of your own wisdom to pass on! Let us know with a COMMENT and don't forget to SHARE this article if you enjoyed it.