Grab a box of tissues and prepare to be overwhelmed with hope for humanity!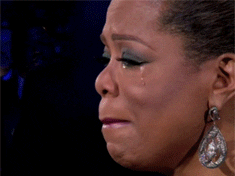 You know that beautiful, warm, fuzzy feeling you get when you hear or see something so virtuous and pure? Get ready to feel it tenfold. Or should I say twentyfold.
In this often troubling, stressful and scary world, it's important we take a minute to stop and remember that there is still so much good out there. People everywhere are still splurging out random acts of kindness and doing all they can to make the world a better place. These people make it easy to feel positive again…
1. This is Anthony Burges. He is 15 years old. During the Florida shooting, he held a door shut to protect a classroom of student, resulting in him being shot five times. His actions saved 20 lives that day.
We're wishing Anthony a fast recovery and if you want to help, his family have set up a GoFundMe account to help pay for his medical bills.
2. This police officer talked this man out of committing suicide. Eight years later, the now father of two gives the officer an award at the American Foundation of Suicide.
A beautifully heartwarming story full of hope.
3. This uber driver made friends with a passenger he drove to the hospital. His family don't live nearby so now he comes to visit him frequently whilst he gets treatment.
So lovely when two people come together like that!
4. Sgt. Mike Maroney rescued this girl during hurricane Katrina. The two were reunited ten years later.
So sweet!
5. A simple request for a song put Ned the pianist in a great mood…
Amazing! Best neighbors ever.
6. This four-year-old boy cried when his stepmom told him on her wedding day "I may not have given you the gift of life, but life surely gave me the gift of you." 
We're tearing up. Seriously, this is too much.
7. "This man saw this elderly lady struggling to bag her vegetables. He ended up assisting her with all her food shopping and it made my day"
What a lovely act of kindness!
8. "These two were playing chess in Union Square this morning and I just thought it was so cute"
9. These garbage men were spotted taking a well-deserved break
10. Christmas elves surprise a homeless man on Christmas morning
Things like this make the world a better place!
11. This professor insisted on feeding and looking after a student's baby after she had to bring him to class because she couldn't get the childcare.
Just adorable!
12. This stranger helped a man on the subway who was struggling with his tie
13. This 22-year-old from Harlem befriended an 81-year-old woman when playing 'words with friends'. He travelled down to Florida to meet her in person.
Oh wow. If you're not crying now, do you have a soul?
14. This waiter fed a disabled lady so that her husband could finish his food
This guy gives us hope!
15. These two kids just randomly made friends in a restaurant and hugged
I love the purity and cuteness of kids! It's too much.
16. These guys go around their neighborhood cutting lawns for the elderly, disabled and single parents for free
What amazing guys they are!
17. "A couple of months ago, this elderly lady asked me to walk her home because she was worried she would slip on the ice. Now I walk her home almost every day" 
"Be kind whenever possible. It is always possible" – Dalai Lama
18. This is Brian. He is a retired man from Dublin who spends his evenings making 50 meals for homeless people in his city. He funds the entire operation with his pension which he lives off.  
Brian, we love you. You're a great man.
19. This nurse goes to approach a former patient that was once paralysed from the waist down…
20. This is the moment a young orphan found out her adoption had gone through and she had a mom
Heartwarming to say the least.
Feeling all fuzzy inside? Are you currently crying like a baby? If you're not, I'd be worried! If you have any inspirational stories of your own, feel free to share them with us by commenting on our Facebook post. Let's kill 'em with kindness!