This show was and still is extremely popular because the characters were so well developed and we couldn't help but relate to each and every one of them. Over time, it has become a part of our history and so it's important that you know everything that there is to know about this show, including some things that you never knew before. Seriously, you'll be surprised!
That's because even after all of these years, we have not been told everything that has happened behind the scenes or what everyone has to go through in order to make this show a complete success. It's a rare thing when a show is a hit and then keeps on being one for decades to come. It's actually hard to imagine that this show is part of the past when we literally can watch every episode in our present time! That's the good thing about the internet and technology. In fact, before we were able to binge watch these episodes online, we were buying the DVDs so that we could binge watch them anyway! Even so, they were also airing this show after the fact, every night on television so for those who were unable to catch it when it first aired (perhaps you had a night job) you were later able to catch up on everything that your own friends were talking about over the years when it comes to this popular TV series.
For me, I was unable to watch it the first time around but now that it is readily available, I have to admit that I have since seen every available episode. Therefore, I am just as curious as the rest of the fans to find out the details of this show that I never even knew about. See for yourself:
–
1. The opening credits are misleading.
We assume that this was shot in Central Park or some other similar location but it was all done at Warner Bros studio.
Many tourists to New York City actually believe that the Friends fountain is the Cherry Hill fountain in Central Park, but that isn't true. The fountains are not the same. This is a clever trick that often gets played on the viewers of these kinds of shows. The fact is, they can't all be filmed in the places in which they are portrayed and for that reason, studios are set up in far away lands which merely recreate what we think we know about the surrounding. Meanwhile, the public believes that they are visiting the actual 'Friends' fountain when really, they are not.

–
2. They travelled to Vegas before the show aired.
They wanted some time together to have fun and get to know each other. Apparently, director James Burrows had a feeling about the show so treated them. We can only imagine how much fun they had when they were off trying to get to know each other! I wonder if they had any clue as to the impact that they were about to make on television history. Perhaps this pre-gathering was a good way for them to be connected in such a way that it would translate on camera for the world to become engaged in for years to come.
Who can blame them, right? What's a better way to get to know each other than a trip to Vegas? What happens in Vegas, stays in Vegas! They probably have enough stories about that one trip to create a whole, new show! I'll bet that they had a lot of good times there and also that this trip really cemented the kind of friendships that they were able to maintain throughout their careers on this show. It was obviously important for this cast to connect before it was time to air so that we could all believe that their friendships were real and long lasting.
–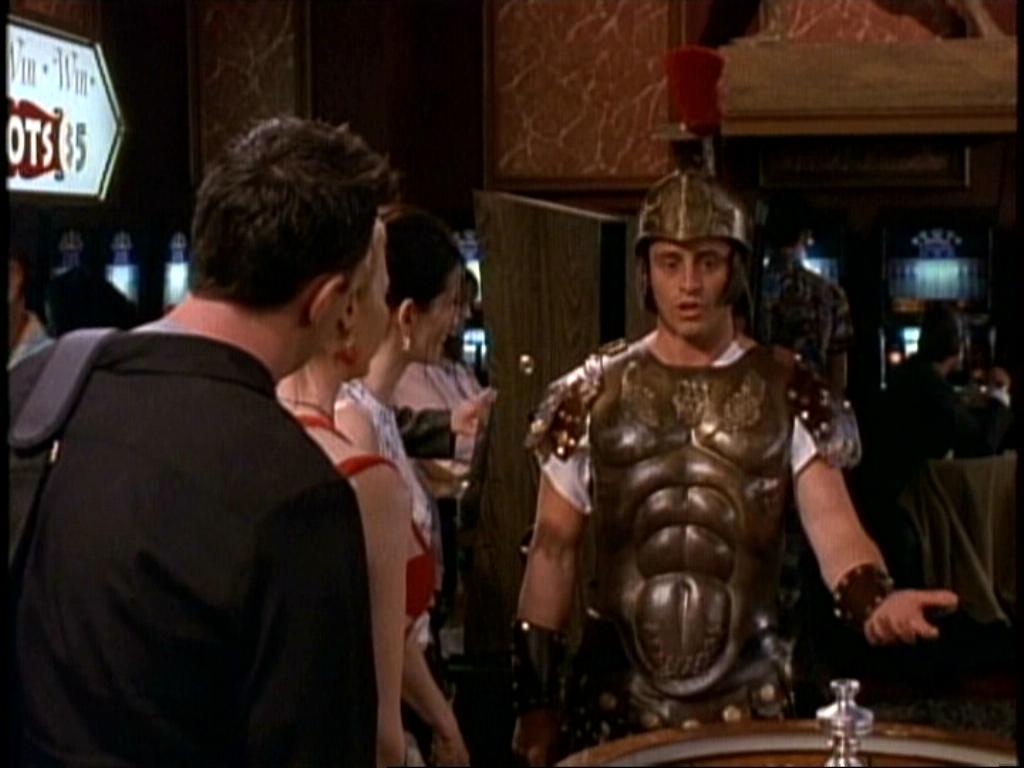 3. They all thought Chandler was gay.
When they were reading the script, they all thought that Chandler's character was gay.
Who can actually disagree? You can see where they're coming from!
–
4. Ursula existed before the show Friends did.
This character was first portrayed on Mad About You.
Lisa Kudrow appeared as Ursula Buffay in Mad About You for two years when she landed the role of Phoebe. The writers decided to make Phoebe a twin to create a cross over between the two shows.
5. Bruce Willis donated his money earned on this show.
The Chandler star was convinced the movie The Whole Nine Yards would be number one at the box office in its opening weekend, and the Die Hard legend disagreed. He lost the bet with Matthew Perry and the money he earnt went to charity.
Mattew may have won the bet but Bruce was the ultimate winner as he landed an Emmy for the cameo.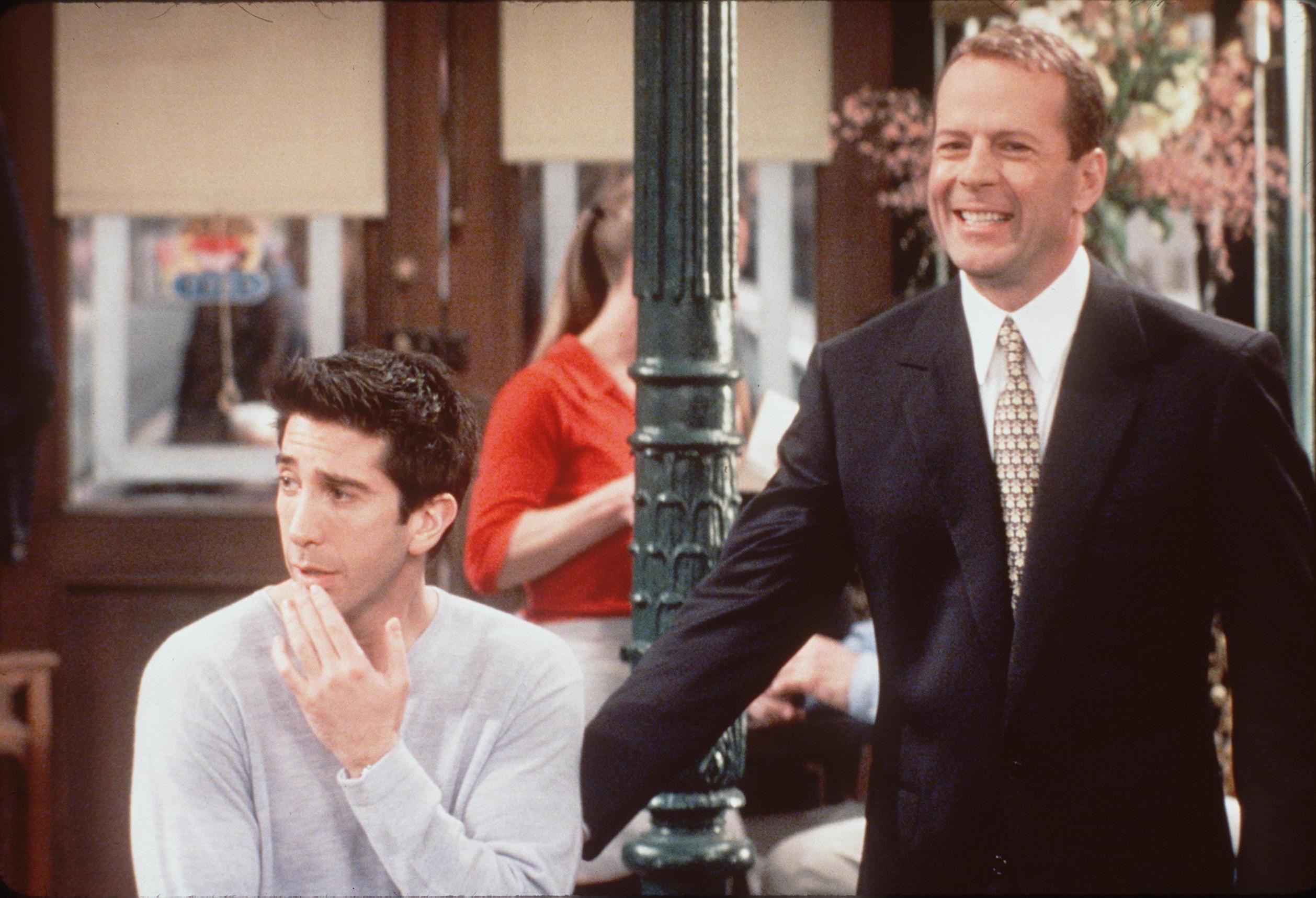 6. Matthew Perry was addicted.
He had an addiction to prescription drugs and alcohol. It is hard to believe but it's so true.
–
When his addiction was at its worst he admitted to drinking two pints of vodka a day and taking up to 30 tablets.
7. Jennifer Aniston almost didn't do the last series.
She wasn't sure that she wanted to be a part of the last season. "I had a couple issues that I was dealing with," she said. "I wanted it to end when people still loved us and we were on a high."
"And then I was also feeling like, 'How much more of Rachel do I have in me?'" Thankfully, she agreed to do the final series!
8. Central Perk exists.
Just not in New York. They have other locations as well, the fictional cafe has inspired some real ones.
There's one in Beijing and in Liverpool as well.
–
9. Ellen DeGeneres was supposed to play the role of Phoebe.
She was offered the role but she turned it down.
The role had been offered to a number of high profile names during the casting process, such as Kathy Griffin, Jane Lynch and obviously Ellen.
10. Joey and Monica were supposed to be a couple.
That was how it was originally written but over time, that changed.
–
Originally, Ross and Rachel weren't the key relationship. Instead, Joey and Monica were supposed to be love interests. I can't imagine that…
11. Courtney Cox had to hide her pregnancy.
During the last series, she was pregnant but it was already stated that Monica couldn't have kids, so she had to hide it.
Also, Lisa Kudrow announced to the producers that she was pregnant in 1997, and the Friends executive crew came up with the idea to make her character pregnant as well.
12. It wasn't filmed in New York.
It was mostly filmed in California even though the whole story line was based in New York.
As you know the fountain from the opening credits isn't in Manhattan, it's all the way over on the coast, in Burbank, California, on Warner Brothers' Ranch.
13. Jennifer Aniston didn't get along with Reese Witherspoon.
She played Rachel's sister in the show and was supposed to play six episodes.
–
However, Jennifer didn't like her very much and asked the producers to get rid of her. Quite harsh really isn't it…
14. Joey was supposed to be intelligent.
His character was meant to be a smart guy but Matt LeBlanc suggested that he play dumb instead.
It worked and we wouldn't change him for the world!
–
15. The network thought that Central Perk was too trendy.
NBC didn't initially take to the idea of it being based in a coffee shop.
They suggested that the gang should hang out at a diner. Good thing they didn't!
16. Courtney Cox was the first to say the word 'period' on T.V.
She did this commercial when she was younger in which she said the word 'period'. It was a first for T.V.
–
Before she was Monica, she was in loads of adverts, just waiting for her big break! She was in a rather special Tampax advert that will go down in history.
17. Matthew Perry was Courtney's slave for five months.
He lost a bet to her (for whatever reason) and had to be her 'slave'.
However, it isn't entirely known what being a 'man slave' entailed…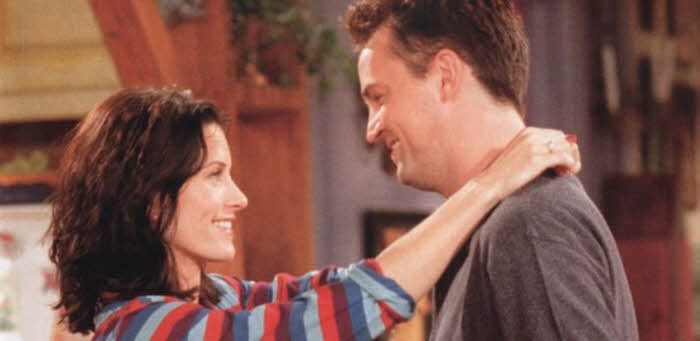 –
Apartments
Many people complain about Monica's apartment, and how unrealistic it was that she lived there. 
Which usually would be true. Her apartment would have cost at least $4,500 a month (in today's money). But luckily for Monica, she was able to afford it due to inheriting the rent-controlled apartment from her grandmother!
Weird
When Joey and Rachel started being 'a thing', the cast was weirded out, saying they didn't "belong together, and it wasn't right."
Poker Face
–
"The One With All The Poker" was inspired by the director getting the cast to play poker together to bond and become close.
Friends
At the beginning of the franchise, the cast would all watch the show together.
Opposites 
Originally, Jennifer Aniston was considered for Monica, and Courteney Cox was considered for Rachel, but they wanted to play each other's roles.
Twins
–
Ursula Buffay was introduced into the show to explain that Phoebe Buffay is the twin sister of Lisa Kudrow's character on Mad About You. Neat, right?!
Survey 
The network got nervous while they shot a scene showing Monica having sex on the first date. They thought the audience would think badly of the character, so they took a survey. 
Results
The results surprised the Network. According to Marta Kauffman the survey concluded: "For sleeping with a guy on a date, do you think Monica is: A) A Slut, B) A Whore, C) Too Easy, D) None Of The Above." She said that "it was all none of the above. Nobody cared except for this one guy."
Shoulders
–
Matt LeBlanc actually did dislocated his shoulder while filming "The One Where Nobody's Ready"! That's why he was wearing a sling for a few episodes during Season 3.
So Similar
Matthew Perry is actually very similar to Chandler's character, and he actually helped many of his friends with their auditions for the roll.
He originally didn't audition for the role at first because he was committed to another project, but when it was cancelled, he auditioned for Chandler!
Theme Song
–
According to Jennifer Aniston none of the cast were fans of the theme song.
A Long Time
It took hours to shoot the title sequence, and everyone had "pruney fingers" by the end!
10 Years
During the whole 10 years of filming, Jennifer Aniston, Courteney Cox, and Lisa Kudrow had lunch together every day, and had the same food every time!

Final Pay

–
During the final season, the main cast were paid $1,000,000 per episode, which was the highest salary ever paid to a television ensemble at the time.
A Hoax
Lisa Kudrow was devastated when she believed a hoax reunion was real. She was upset that she wasn't invited.
How You Doin'?
Matt LeBlanc's daughter has started saying "How are you doing?" Whenever told her it was"how you doin'?" she told him that no, it should be "how are you doing?"
Saturday Night Live
–
Jennifer Aniston turned down a job on Saturday Night Live to be on Friends. Let's be honest, it wouldn't have been the same without her!
Joey
Hank Azaria auditioned for the role of Joey twice and was rejected twice. But they did call him back and cast as Phoebe's boyfriend David!
Phoebe
Ellen DeGeneres was actually asked to play Phoebe, but she turned the role down!
Coffee
–
Throughout 10 seasons, Phoebe drank 227 cups of coffee, which was the most coffee of any character.
Ross
Ross has two birthdays. He once said his birthday was in December, and in a different episode he said it was on October 18th!
Idiots
When Friends premiered, People gave it a D+ rating and Time called all the characters a group of "dysfunctional morons." Ouch!
Bruce Willis
When Bruce Willis guest starred on the show, he donated all the money he made from the episodes to charity.
–
Ugly Naked Guy
Ugly Naked Guy was an uncredited role. But many people believed he was played by Michael Hagerty, who is know for playing Mr. Treeger. 
But he was actually played by a man named Jon Haugen.
Who Are You?
Jon was later asked why he never come forward before his identity was discovered in 2016, and he simply explained: "I was just keeping it mellow because Warner Brothers was keeping it mellow. They wanted everybody to have a guess who I was."
No Naked
–
Neither Haugen nor David Schwimmer were actually naked while filming.
Scrapped
Matthew Perry convinced the writers to scrap a storyline where Chandler went to a male strip club because he really liked the sandwiches they had there. 
That was a great idea!
Never Ever
The pilot tested so poorly that Friends almost never made it on air!
Stand Ins
There are a handful of episodes where there are obvious doubles standing in for the cast members, like this woman is supposed to be Monica!
–
Pregnant
Lisa Kudrow's pregnancy was written into the show, but because Monica and Chandler couldn't have children they had to hide Courteney Cox's pregnancy during the last season.
20 Year Olds
NBC told the creators of Friends that they needed to have an older character on the show because no one would watch a show with a cast of 20-year-olds! How silly were they?!
Courteney Cox is the only cast member to never receive an Emmy or nomination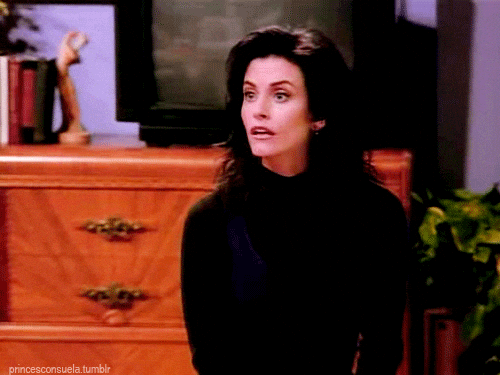 All of the actors playing the other five main characters in Friends received at least a nomination for an Emmy; all but Courteney Cox, that is. Who else won? Read on to find out!
–
Lisa Kudrow was first to win an Emmy
Lisa Kudrow was the first out of all the Friends cast to receive an Emmy award for playing her character on the show. She was actually nominated twice before winning, but eventually took home the award in 1998 for her performance as Phoebe.
She has been nominated a total of six times throughout the series but only won once, for the emotional storyline involving her being a surrogate mother.
Jennifer Aniston's hairdresser was as high as a kite when he cut her hair!
The 'Rachel' really defined the era, and became a style statement both on the show and something that people asked for in salons all over the world. So you'd think the the series' creators spent a long time coming up with such an iconic part of the character.
Nope! It was just that Jennifer Aniston's hairdresser Chris McMillan had smoked a LOT of weed before styling her. She actually hated the haircut! No wonder!
Courteney Cox was jealous of Rachel's hair
The 'Rachel' haircut was such an iconic look at the time, Courteney Cox revealed that she was actually jealous of Jennifer Aniston's hair! Both actors even had the same hairdresser at the time, so I guess she thought Jennifer was favorite!
Courteney Cox was pregnant at the end of filming
Courteney Cox was going through a lot of emotional times while filming Friends, and a lot like her character Monica, had trouble conceiving with husband David Arquette. But near the end of filming the final season, she was pregnant with daughter Coco. Looking back, you can kinda tell!
–
So was Lisa Kudrow!
Okay, Kudrow was actually pregnant… when Phoebe was pregnant on the show! She actually helped come up with the idea of her pregnancy so that she would still be able to film without having to hide her baby bump. But since Phoebe was pregnant with triplets, Kudrow still had to wear a fake pregnancy bump to make her much bigger than she was!
Courteney Cox was a teen rebel
Even though as Monica she's a clean freak, Courteney Cox was a pretty rebellious teen when her parents split up and remarried. Her career in show business began as a model, and she appeared in teen magazines and even tampon advertisements.
And Lisa Kudrow was a medical researcher before acting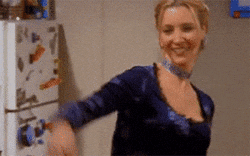 Lisa Kudrow has a degree in psychobiology. Stand-up comic and Friends guest star Jon Lovitz persuaded her to try out acting as he could see her talent. in her before she saw it herself. She changed career paths, becoming friends with Conan O'Brien and landing TV roles in Mad About You, then Friends.
–
Jennifer Aniston had to lose weight to play Rachel
Yeah I know, she's so skinny it's hard to imagine anyone telling her she must lose weight, but it happened!
Lisa Kudrow hates to sing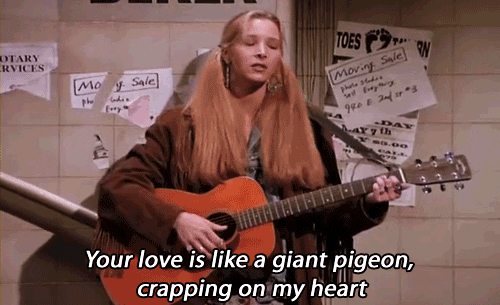 One of the funniest inside jokes on Friends is Phoebe's singing. She thinks her weird songs like Smelly Cat are amazing and she has a great voice. Whereas the reality is maybe her songs are funny, but she can't sing at all. Maybe it's fitting then that Lisa Kudrow hates singing in public! That hasn't stopped her from appearing onstage at a Taylor Swift concert to sing Smelly Cat.
Courteney Cox got her big break in a Springsteen video
She started out modeling, but Courteney Cox got really famous after appearing in Bruce Springsteen's video for Dancing in The Dark. She plays the surprised girl who gets pulled from the crowd to dance with Bruce on stage, and was only paid $350!
–
A movie called Leprechaun almost made Jennifer Aniston quit acting
One of Jennifer Aniston's first big roles was the campy horror movie Leprechaun. She hated both filming and the movie itself that she considered quitting acting!
Jennifer and Brad met on a blind date
If there was one power couple in the 90s, it had to be Bennifer! Jennifer Aniston and Brad Pitt were the hottest couple in Hollywood for a while. Their first date was set up by their agents, who didn't tell each who they'd be going on a date with beforehand. Brad even made a famous guest appearance in Friends in season 8, when the two were married.
–
Lisa Kudrow saved herself until marriage

Phoebe is a famously free-and-easy hippy character, but for a few of the early seasons of Friends, Lisa Kudrow hadn't sex with anyone! She saved herself until she married her husband in 1995, they have a child together and are still happily married!
Jennifer Aniston has had cosmetic surgery
Turns out that those timeless looks don't quite come naturally, as the actress has revealed that she has gotten fillers and Botox several different times.
Ross and Rachel's 'kid' is all grown up…

–
Rachel and Ross even ended up having a child together. A daughter they named Emma.
The actresses who played Emma were only a year old when they got their first taste of stardom. I say actresses because 'Emma Geller-Green' Was played by twin babies.
Obviously, having twins play a baby or a child is not uncommon in Hollywood, and it's a way to avoid infringing on child labor laws in the United States.
Emma Geller-Green were played by Cali and Noelle Sheldon who were born in June 2002, just two years before the finale of Friends!
It's been 13 years since the last episode of Friends aired and almost 15 years since  Cali and Noelle first took on the role of Emma.
The two are now 14 years old and they're still child actors.
But despite being child stars, they're still you typical teenagers at heart.
They go to school and play sports. The pair have just taken up acting as a part time hobby. 
Noelle and Cali Sheldon most recent roles have been in the adventure drama film Rougarou (2016) and they've even been in a few episodes of the hit TV series Life.
But Noelle and Cali aren't the only twins who have appeared in Friends.
–
Child stars and twins, Cole and Dylan Sprouse, played Ross' first born son, Ben.
These child actors went on to star in their own hit show on the Disney Channel, The Suite Life of Zack and Cody and they've gone on to work on a number of other different projects.
The Sprouse twins are both 24 years old. 
Dylan is currently taking a break from acting, while Cole is currently staring in Riverdale.
The pair still have a strong fan-following even after all these years!
But don't worry, you aren't getting old, I promise!
I don't know about you, but I think it's time for a Friends reboot or even a movie!
Feel free to SHARE this with your friends and family on Facebook!