As Sheryl Crow once sang, "A change would do you good". This is true in everyday life, but especially when it comes to our surroundings at home. After all, we spend most of their lives there – why shouldn't we make it look as fabulous as possible?
However, money doesn't grow on trees, and it can feel like a major financial commitment to redecorate the house Luckily, there are a whole bunch of things that you can do to improve the overall vibe of your home, most of which don't cost any money whatsoever!
We've gathered a bunch of them here. Feel free to tell us in the comments if you have any of your own!
1. Give your tees a new lease of life
Got an old shirt you love that's just not fitting your wardrobe anymore? Congratulations, you just found yourself a new pillow cushion. Simply cut across it just below the armpits, stuff it, and sew up the top and bottom, and you have a beautiful new (old?) pillow. You can even just sew the cut out onto an existing pillow and trim off the excess fabric.
2. Fork outta here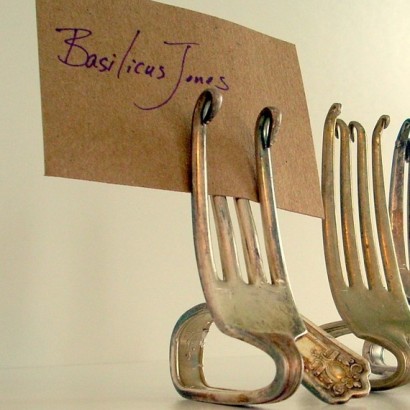 Tarnished old forks make beautiful recipe card holders. All you need is the patience and elbow grease to get them to bend into place properly! Some hardware will probably be in order here, but be careful.
3. Love is an open door
Old shutters and old doors get left on people's curbs, sadly abandoned after their initial use is done. However, with a sanding and a fresh coat of paint, you can use them as a lovely, inexpensive headboard for your bed. Just make double sure that it's firmly held in place once it's up!
4. King of the plant kingdom
DIY is all about seeing opportunity where others see junk. Anything can make a good ornament if you're creative enough. While your child's old toys don't necessarily sound like the building blocks of a sophisticated DIY project, spray-painting them gold could make for a quirky and unique decoration, especially if you combine them with plants, as seen above.
It's not just plant holders that you can use them for, either. Once you've painted them, you can cut them in half to use them as hooks, mount them on wood for a striking centerpiece, or even make smaller ones into fridge magnets!