'There is only one happiness in this life. To love and be loved.'
We're all aware that love isn't easy and not one love story is the same. Love can come when you least expect it; sometimes at difficult times when you're most in need, sometimes at times when you weren't looking for it. But ultimately it presents itself, and it can be the most difficult and equally most rewarding thing in the world!
It's about a mixture of things; compromise, caring, understanding and faith. But it's easier said than done, and we all know that it can't always be plain sailing! So sometimes you can forget the amazing things couples do to keep the flame alive. 
Here are 15 reminders of that. These are 15 couples who have inspired us by being so thoughtful and sweet. Not to mention, this proves that Mr. Right is out there!
1. The couple that match their clothes
If that doesn't melt you heart, I'm not sure what will! That's true commitment and just simply adorable.
2. Chrissy Teigen and John Legend's day in bed
Because everybody needs a day under the covers with their other half. It's so nice to see Chrissy and John taking some quality time together!
3. The couple who wrote each other since they were 15
I can feel the ice around my heart breaking and melting away. This is what love is all about. Putting the effort forth to create something so beautiful and everlasting.
4. The couple that laugh together, stay together
There's nothing better than trying out new things with a loved one and just having a ball. This couple did exactly that and proved it's more about the enjoyment than the learning.
5. This video of this couple still getting their groove on
I mean, was there ever anything cuter, ever? Get you a man who will boogie with you all night long. And look how much fun they're having! Aww!
6. The couple keeping the fun alive

Always be young together! It keeps the love alive. And really, we all know we wanna do this when we're at the super market!
7. Portia and Ellen's relationship These two are so in love, it hurts. Portia says she felt immediately drawn to Ellen; "I just walked over to say hello to her, and I couldn't believe it, but she turned around and it was like an arrow was shot through my heart." How sweet.
8. The guy that defended his girl
This gorgeous girl was going to prom with her boyfriend and decided to post a lovely pic of them on social media. She was met with comments like the one above, shaming her body. That's when he stepped in… 
The perfect response from Tre! He showered her with complements and the world has been in love with him ever since. And Madison, you are beautiful and you look amazing!
9. The mum that boasts about her hubby 
Nothing wrong with showing off what you got! And always finding your spouse attractive is a definite must to keep the flame alive!
10. The proposal that sparked the best reaction
 
It's all about the reaction. This must have been super sweet to make that lady in the background clutch her heart and beam with happiness and joy.
11. The couple that has loved each other for 70 years!
I can't even begin to envision 70 years with someone! That's a fantastic and beautiful achievement. Nothing but respect for these two.
12. From ring bearers to bride and groom
These two took their first walk down the aisle as kids, when they were adorable ring bearers at a wedding. Now they've taken a walk of their own and become husband and wife. Fate? I think so!
13. Benedict Cumberbatch only thinking of his wife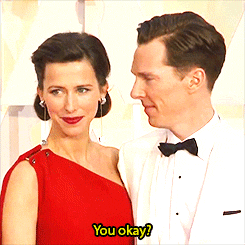 It's so cute that he checks up on her on the red carpet. We love you, Benedict!
14. This Grandpa who goes the extra mile for love
We're dying of cuteness about now. This is some old school romance from a true gentleman.
15. The husband who got the best anniversary gift for his wife
Forget diamonds. It's thoughtful gifts like these that every woman wants. This one has me all emotional.
Do you feel the love? So do we! And we're inspired by this cuteness. Next time you're with a loved one, show them how you feel!
What cute thing do you and your partner do? Comment on Facebook with the ways you keep the love alive. Don't forget to share this article with your friends and family. We want to spread the love!