"Accept who you are unless you're a serial killer" E.D.
For most people, the name Ellen is immediately associated with one person in particular. Someone who has had a positive impact on millions of people's lives, whether that be by making enormous charitable donations or simply by making them laugh.
Ellen Degeneres is first and foremost a great believer in spreading love and kindness to all. On top of this, she is incredibly well-renowned across a number of fields and consistently displays a talent for making the world a happier place. What a gal!
And, with her highly successful talk show  'The Ellen Degeneres Show' approaching its 15th anniversary this year, it seems fitting to throw some praise her way.
Here are 10 reasons why I think Ellen is freakin' awesome:
1. She's a pioneer for the LGBT community
With gay pride fast approaching (Last Sunday in June), it seems fitting to draw attention to one of the reasons Ellen is so well respected. In 1997 she officially 'came out' on Oprah and then on her sitcom of the same name, her character followed suit.
At the time, she was the only openly gay woman to play a gay roll in a television program. This showed a huge amount of bravery in a less understanding time period.

To put it into perspective, same-sex marriage wasn't even legalized in California until 2008! She inspired a generation of women to accept who they are and be happy within themselves no matter what their sexuality. You go, girl!
…and she believes in equality for all
Ellen frequently mentions that she believes everyone deserves to be treated as an equal. This is regardless of faith, sexuality, color or anything else for that matter. Her marriage to Portia De Rossi in 2008 was a symbol of a step forward for people fighting for equality for all.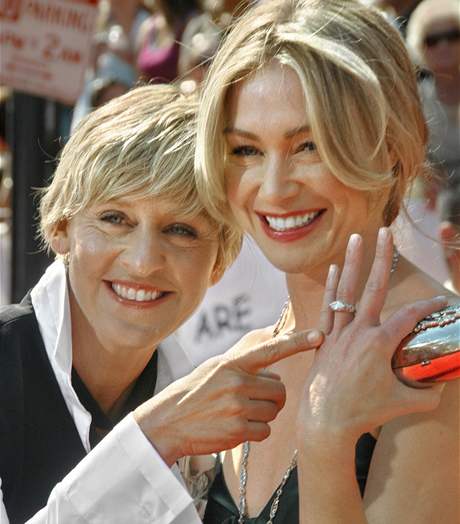 2. She's sassy as f*ck!
Being such a well-known celebrity means that from time-to-time you're going to get some stick. It could be for something as trivial as the clothes you wear or the way you speak. Aside from receiving a lot of homophobic criticism in the early days of her career, Ellen has also had to deal with a mixture of keyboard warriors and the occasional person in a position of power throwing negative comments her way.
But Ellen being Ellen shows us time and again that she doesn't care. In fact, it seems as if she rather enjoys standing up for herself in the face of hate and does it with sass and style!

3. She knows how to have fun!
No celebrity is too big for her to mess with. She's constantly introducing new gimmicks, surprises and ridiculous games to keep the show fresh and exciting.
4. She's multi-talented
Although these days she's most famous for her well-renowned talk show, Ellen has been involved in a wide range of aspects of the television, film, production and comedy industries. As well as previously having her own sitcom she's also featured in films both in person and as voice roles (no one needs reminding about Dory). She's also hosted the Academy Awards, Grammy Awards, and the Primetime Emmys and received widespread applause as a result.
Side-fact: she became the only woman ever to win an Oscar for Best Supporting Actress after receiving the award for her role as Dory in the Finding Dory. I love that film!
5. She's absolutely freakin' hilarious and weird in equal measure too
"If someone says you're weird, say thank you". Known originally for being a comedian, Ellen brings humor to everything she does. She's not afraid to laugh at herself either!
6. She's generous beyond measure
Ellen uses her talk show to help out those in need and give a platform to desperate causes who can't get their voices heard. The total amount she's helped raise, fund and donate is unknown as it's believed she does a lot out of the public eye.
Her efforts to team up with major industry leading companies and celebrities have seen huge donations made, including: $1 million to J.J. Watts Hurricane Relief Fund, over $500,000 to help rebuild Spain Elementary School, $1.6 million to Summit Academy, $25,000 to the Make-A-Wish foundation and $100,000 to David Sheldrick Wildlife Trust to name a few. That's a whole lot of good karma!
7. She's business savvy
Some people might not know that Ellen's talents don't stop with being an ace talk show host. She is also an incredibly astute businesswoman; owning her own record and production companies (the latter named 'A Very Good Production').
On top of these, Ellen has her own lifestyle brand simply named 'ED Ellen Degeneres' which includes accessories, home, pet and baby items as well as a collection of apparel. A woman with fingers in many pies it seems…
8. She's just a pure entertainer!
If you've ever watched an Episode of her talk show, then you know exactly what I mean. From the extravagant to the absolutely ridiculous, Ellen was born to be on tv and talk, sing, dance, tell jokes until the end of her career. Which, we hope isn't any time soon.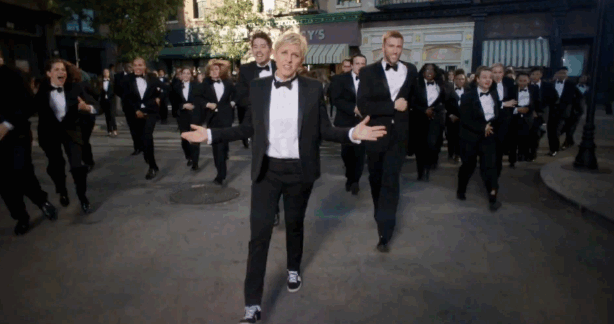 Remember this photo? She's pretty popular amongst the Hollywood stars too.
Did you know? This selfie helped raise $3 million. How? Well, since the photo was taken on a samsung, the tech giant decided to give a dollar to a charity of Ellen's choice for every retweet this photo got on Twitter. She chose two- St. Jude's Children's Hospital and The Humane Society, so Samsung gave them $1.5 million apiece.
9. She's extremely brave
When Ellen came out back in 1997, she received a lot of abuse. As you can expect, being a celebrity puts you on a pedestal for scrutiny from all angles. The media had a field day with such a controversial announcement and the attention she received sent her into a depressive spiral. But she always stayed true to who she was. She's forever standing up for what she believes in, in a fair way no matter who opposes her.

… Which makes her a role-model to young girls and guys everywhere
It doesn't matter who you are or where you're from. It doesn't matter what your sexual preference is or what your favourite fast-food restaurant is, Ellen speaks a language we can all understand. Her message is simple: "be kind to one another". Something anyone, anywhere can follow.
10. She's decorated for a reason… and she's won the highest award of all
Ellen's work doesn't go unnoticed- the list of awards she's received includes:
31 Emmys (59 nominations)
20 People's Choice Awards
2 Producer's Guild of America Awards
9 Teen Choice Awards
… And a host of other honors.
Most significantly, in 2016 she was awarded the highest honor a civilian can receive: the Presidential Medal of Freedom. This was for her contributions to society, culture, and the television/film industry. Barack Obama stated "Ellen counters what too often divides us, with the countless things that bind us together, inspires us to be better, one joke, one dance at a time" as he presented her with the award.
She's just a gem ain't she? What are your thoughts on Ellen? Are there any celebrities or people in positions of power that you really respect, or think need some praise throwing their way? Let me know in the comments!