Daily Feed is the home of social first news and entertainment. From celebrity gossip to nostalgia, our unique content is guaranteed to intrigue and inform. If you enjoy the following article please share with your family and friends.
Love is great, isn't it? All those big, warm, mushy feelings swirling around inside of you making you feel like you could dance the night away or take on the world with your one true soulmate loyally at your side… too much? Okay, fair enough. But love is pretty wonderful, and whether you're a hopeless romantic or a self-confessed cynic, we all enjoy a little indulgence when it comes to love every now and then, especially when it comes out number 1 guilty pleasure; cheesy, romantic movies.
What you believe, your thoughts are what manifest your destiny, so yes I believe wholeheartedly that every single person out there has someone that will love them for exactly who they are. I hope that belief remains and I don't end up getting jaded over time because let me tell you what, there has been some obstacles hurled my way that could have potentially forced a more cynical outlook on love. I don't care one bit how it looks to anyone else though.
I watch them for me. I can be feeling totally down and out and turn on the old tube, put on a really good one like, brain fart, don't you hate when that happens, right when you need to pull up a name of something that you see all the time but on the spot it doesn't come to you, okay The Mindy Project. That show is a romantic comedy television show, that is how much I love those, it is one of my favorite shows, I can literally watch it over and over and never ever get tired of it. Anyways, watching a show like that, full of love and full of hope makes me feel more positive and uplifted, I think that there is so much negativity smeared in our media constantly, what is so wrong with watching a story of love conquering all??
I for one am more than grateful for these tales of true love. Prince Harry and Meghan Markle, look at those two! Their story is a real-life love story. A fairytale brought to life, love has conquered the royal family. Hopefully, probably the most anyone can hope that will come of that is a positive change which is a possibility when the forces of love are in play. Romantic movies, love stories, Rom-Coms, whatever you would like to call them they are the best! I honestly do not have any clue what I would do without romantic comedies, they are my favorite type of movie (Cliché girly I know.) There is all different types of romantic movies however, from super sappy ones to unrealistic even though we all wish deep in the back our minds that our true love, our soulmate will just show up at our door and we will live happily ever after. This in reality probably only happens an unbearably small amount.
Good thing we have articles like this to be able to read and dream about our lives magically turning into a romance documentary.
WARNING: SPOILER ALERT!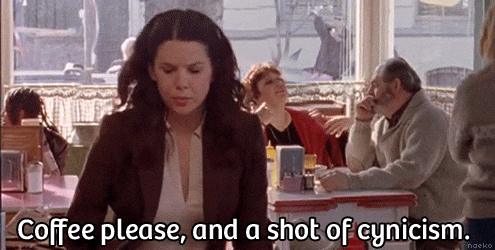 1. Casablanca (1942)
How can I possibly make a list of top romantic moments in movies without putting Casablanca first? I can't, so I haven't. This scene between Humphrey Bogart and Ingrid Bergman is absolutely Iconic. I'm still kinda mad that she never got on that plane with him.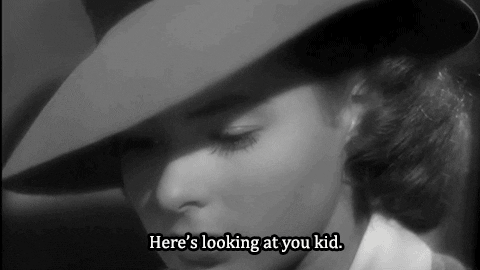 2. It's a Wonderful Life (1946)
This gets me every time. George is so desperate to win the affections of the lovely Mary that he promises to lasso her the moon! Which is made even sweeter by the fact that later on in the movie, Mary creates a children's book entitled George Lasso's The Moon. So sweet!
3. Dirty Dancing (1987)
Who could forget this classic "coming of age" movie? When Frances, affectionally nicknamed "Baby" meets Johnny while on vacation with her family they embark on a raunchy journey together and they create the most iconic dance routine of all time, which pretty much results in Baby becoming a woman.
4. When Harry Met Sally (1989)
The ULTIMATE "Will They Won't They?" film. Harry & Sally spent a car ride together and never spoke again. Then became best friends. Then became lovers. Then never spoke again. And then Harry gatecrashed an NYE party just to give a big romantic speech about how in love with Sally he is despite all her massive flaws… swoon! That's the dream, isn't it ladies?
5. Ghost (1990)
I won't lie, I only watched Ghost for the first time very recently and when I did, I was very mad at myself that I hadn't watched it sooner. Oh, Em Gee! Patrick Swayze is an actual ghost! A ghost who can't cross over to the other side because he feels the need to protect his love, sob! Such a beautiful movie with an equally beautiful soundtrack. It even made me almost want to take up pottery.
6. Titanic (1997)
Obviously one of the most romantic movies of all time.  This literal shipwreck was based on memories and brought to life.  No one can deny that this film is extremely, over-the-top, so romantic that it actually turns cheesy. We still love you though Leo. No matter what, you can do no wrong.
This scene is literally the reason I gave my mom a heart-attack every time we got on any type of boat because I would immediately run to the bow of the boat, fling my arms out and scream "I'M KING OF THE WORRRRRRRRRLD!". I always made my sister pretend to be Jack as well… she hated it. If you don't recognize this scene, then seriously, where have you been?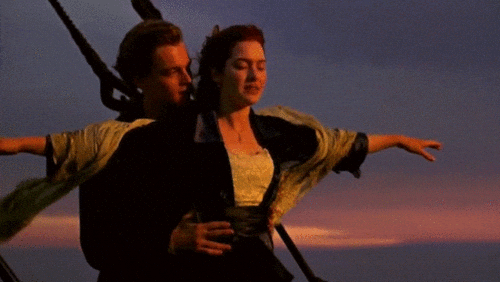 7. The Wedding Singer (1998)
I never thought I'd be including an Adam Sandler movie in a list of most romantic moments, but I can't mention this scene in The Wedding Singer. Drew Barrymore's face when she realizes that Adam (or "Robbie") is the one singing to her over the intercom says it all. Also the song "I Wanna Grow Old With You" is the purest thing I've ever heard.
8. You've Got Mail (1998)
This honestly my favorite movie of all time. All time. Not only is it based on the life of a quaint bookshop owner, it also stars Tom freakin' Hanks, who is just a global treasure. Despite seeing this movie quite literally a bazillion times, I still tear up every time these two seemingly mortal enemies discover they had been falling in love with each other via e-mail this entire time. Shopgirl and NY152 4EVA <3
9. Bridget Jones' Diary (2001)
God bless Bridget Jones, the British spinster who crashed into our lives with her massive panties in 2001 and gave us all hope. My heart was in my throat when Mark Darcy suddenly vanished out of her apartment after reading her very private diary filled with less than desirable comments about himself… and then my eyes completely flooded when it turned out he'd just left to buy her a new diary. Oh and running down the street in the snow wearing no pants? Totally something I would do.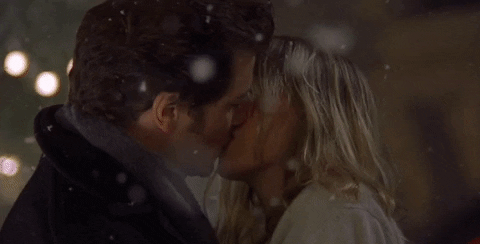 1o. A Walk to Remember (2002)
This is a beautiful, pure movie. The no-good village bad boy falls in love with the do-good daughter of the village reverend… and she has terminal cancer. If that doesn't pull on your heart strings enough he then helps her to complete all the items on her bucket list before she passes (no I'm not crying, your crying). My favorite moment in this movie is when Landon drives Jamie out to the state line so that she can literally be in two places at once. And meanwhile, I can't even get a text back.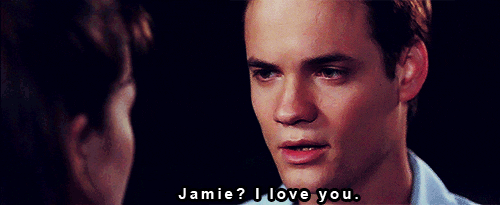 11. The Notebook (2004)
Okay, so you had to expect this one to appear on this list at some point. Two young kids from completely different backgrounds who fall in love against all odds, effectively dragged apart by a disapproving mother and don't meet again until years later and realize they never stopped loving each other despite all the years that have passed. How ROMANTIC. And let's not forget the revelation at the end when the old guy is actually Noah visiting Allie in an old person's home just to read her their story, as she has Alzheimer's. Take a bow, Nicholas Spark.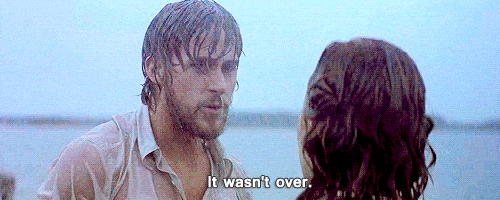 12. Eternal Sunshine of the Spotless Mind (2004)
A lot of people disagree with me on this one, because at the end of the day Eternal Sunshine is basically a movie about a relationship that was so volatile and horrific that the two people involved actually had to erase each other from their own brains permanently. 
Talk about drastic measures. But I think what a lot of people miss is the fact that despite being erased completely from memory, these two eventually re-meet and still end up together. If that isn't cosmic love then I don't know what is!
13. P.S. I Love You (2007)
Another romance movie based on a dead loved one, I'm definitely beginning to see a theme here. Gerry (Gerard Butler) dies of a brain tumour, and knowing his wife Holly (Hilary Swank) wouldn't be able to cope, he sort of helps her from beyond the grave via letters he wrote for her before passing, helping her to eventually deal with her grief and get used to a life without him. He ends each letter with P.S. I love you, just in case she ever forgets. Another Nicholas Spark classic.
14. Music & Lyrics (2007)
Ah, Hugh Grant, Britain's one-trick pony (which I say in a very affectionate way). There's just something I love about the relationship between him and Drew Barrymore's character Sophie in this film.
Have to admit I wasn't entirely sold on it at first, but at the end when he gets up on stage and sings Don't Write Me Off Just Yet as an apology to Sophie in front of thousands of people, well, I just felt that on so many levels. And anyway, who doesn't love a bit of an American/Brit romance?
15. Up! (2009)
I'm going to struggle with this one. Never has a movie turned me into such a huge, messy puddle of emotions as quickly as Up did. I mean, really Pixar? The first 10 minutes? Was that really necessary? Couldn't have given us some kind of warning? What an actual rollercoaster of a movie. And just in case we hadn't cried enough throughout the entire movie, they hit us with the note from Ellie which Carl finds at the back of their "Adventures" book right at the very end. Nope. Can't-cope-won't-cope.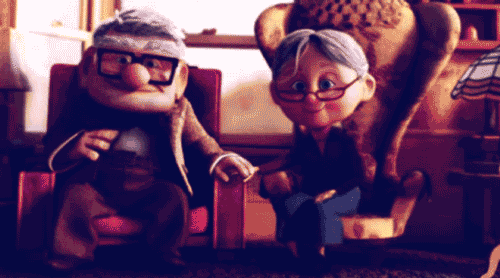 16. Tangled (2010)
And last but by no means least, Tangled. Now I'm a big fan of Disney, and there are literally 1000 Disney examples I could use for this article but I picked Tangled for two reasons; 1)
Because At Last I See The Light is literally the most romantic damn song I have ever heard, and 2) Because despite Rapunzel having hair with magical healing powers which she could use to stop Flynn (or Eugene) from dying, he cuts it all off and sacrifices his own life so that she can finally be free. BRB, just gotta go rock back and forth in my room while I think about how no one will ever love me like that.
Anybody need a tissue yet?
All you need is love. The Beatles really had something going there, their whole message besides the thought that they were as the great departed John Lennon said "bigger than Jesus." That may not be the truest statement ever made, however only wanting to fill the world up with love and put out good loving energy is the greatest, truest idea that there could ever be.
Without l.o.v.e. humans just would not be as we are, there would no compassion, understanding, fellowship, there would be a huge void in us as a whole that we would constantly search for.
17. Beauty And The Beast
There is not much to say about his all-time classic love story, it is pretty straightforward. Belle, the beauty looks past the ugliness of the beast and sees him for who he really is. Love is not physical, it is everything but physical.
A bit unrealistic f you ask me, but, still super, super sweet and romantic. Still though, after everything that has happened to me in my life I still believe that love, true soulmate love is out there. Maybe it is naïve, maybe there isn't.
One thing I can say for sure though is that the hope of believing that there is that adoring love out there is one million zillion times better than waking up every day with absolutely no hope that I could ever find that.
Brokeback Mountain
There something unique about a secret love. Depending on the circumstances it can be really beautiful or really painful. These two men had to completely hide their love, from their wives, from society as a whole.
It is so wonderful that times are not like this anymore I cannot imagine. Thank god, for the most part, people can be honest about who they are.
All people should be able to be the one they are meant to be with no matter what. Their love was truly beautiful in its complexity. A love so strong that regardless of the shame of other peoples cruel judgments, they remain willing to take it. They are willing to risk the lives they lead just to be able to see each other a couple day out of the year.
Grease
This movie is without a doubt, not only the best movies ever made but also one of the cutest love stories ever told. Sandy and Danny, the high-school sweethearts of the century!
Grease  Lightning
Not only does this movies deliver romance, it also hits on many subjects, school, friendship, cars, style and is full of breakout songs and dances, not something I am normally into watching, this movie though has it all. Can't go wrong watching young John Travolta in a leather jacket swooning over his crush.
Plus this movie is completely full of all kinds of other fantastic characters.
Bridges Over Madison County
Here is a story of a woman who gives up the love of her life for her family and the life she has already made.
The love of her life shows up literally to her door asking for directions, something that probably does not happen often, but a beautiful idea.
The two of them spend three days together and then go in their separate directions, never speaking of each other until the day they die. Francesca stays with the life she had devoted her self to. There is a different kind of love there, just as beautiful.
Rome And Juliet
We spoke about hidden love, but here is the classic tale of forbidden love. There is no power stronger than that of love and that is proven through this young love. Two teenagers born into two enemy families but somehow find each other anyhow. As the all-knowing Yoda said, "fear leads to anger, anger leads to hate and hate is the path to the dark side. Yes, it is hard to live in the light all the time, it is, you can, however, enjoy some of the seedier aspects of life and still be full of love. We as humans also do have the capacity to be really mean, does that make it okay though? We all the capacity to be serial killers as well but somehow we keep a lid on that.
My point is that no matter where you are in life or how little love you feel, the love that you have for yourself is all-encompassing, it will carry you through the darkest of times. If you really really open your eyes and look around, love is everywhere in everything.
Now for everyone out there like me, let's say you don't have a significant other in your life, like a boyfriend or girlfriend. Does that make the love in our lives any less? I would say a big fat no. Hello, there is friendship love, family, your children, love for your animals, the list is endless. Love is everything that the universe is built around.
Shakespeare knew how to tell a love story or any story for that matter.
Pretty Woman
A hooker and a rich guy, classic right? I guess this is kind of sort of a Cinderella story, except Cinderella wasn't a woman of the night. Either way, this is still one of the best romantic movies ever.
These two actually go through the ups and downs of falling in love with someone so far from who you may have expected.
I all begins with him picking her up as an escort too, in the end, love conquers. Julia Roberts massively slew that part. It somehow put the perspective of both characters to play and made you really feel like both of them deserved love.
Edward Scissorhands
Ah, the dark, twisted mind of Tim Burton. This happens to be one of my favorite movies of all time. Johnny Depp and Winona Ryder play an intriguingly dark duo. A man, or close to it,  with scissor hands and a girl that obviously into freaks from the suburbs.
I would say this is not only one of the most oddball romance stories out there it is also one of the coolest stories ever told. Pretty much every one of Tim's movies is fantastic and extremely original.
When I was super little, when Edward Scissorhands came out I was actually scared of his hands, which is so retarded and so ridiculous but I definitely remember being scared when I saw his scissor hands.
Funny how everything changes as time goes on.
Silver Linings Playbook
This has got to be for sure one of the cutest films that have come out in the last decade. These two screw-loose lovebirds find each other through the muck.
One is dealing with a violent offense after finding his wife cheating on him, the other is coping with the death of her husband. I absolutely love the at this movie normalizes mental health issues, because seriously a large chunk of the population deals with some kind of mental health issue and no one, absolutely no one wants to talk about it. I cannot for the death of me imagine why. it makes no sense whatsoever. We all talk about Physical conditions because it's in front of our eyes we can't deny it. this movie is a good step in the right direction of tearing that stigma apart.
A super unique love story.
Something About Mary
Ben Stiller and Cameron Diaz at their peak! This movie is so funny, time after time of watching.
Ben Stiller character heads out in search of his dream girl, Mary, leading to all sorts of humorous moments.
In the end, though, he and Mary end up together. This movie really is hilarious in so many different ways. Ben Stiller has really done well for himself he still directs and writes movies, Cameron Diaz really has not been in much lately, but we still love her no matter what!
Love Actually
 I was just watching Love Actually the other day and the beginning of that movie is so sublime, it talks about how we as a society have become grim, with opinions such as that we are becoming hateful, selfish, greedy people, but then it shows families reuniting at airport terminals and the joy and love in their faces and hearts when they see each-other. That is beautiful. There actually is love everywhere you look, you just have to be open and ready to accept that love.
  All you need is love, love, love is all you need.
This movie tells the story of several different love lives intertwining into a climaxed ending.
Walk The Line
A true portrayal of a real love story, Johnny Cash and June Carter were just two crazy kids in love and making music that will stand the test of time.
Johnny Cash was played by Juaqine  Phoenix and June Carter was played by the lovely Reese Witherspoon, the movie was done super well and really capture the beauty of that couple. Unfortunately, shortly after this movie, Juaqine went off on a pretty strange road. He decided he was going to become a hip-hop star instead of an actor and overall went off the rails. I am not sure as to whether or not he has come back yet.
Here is the real Johhny and June Cash. They were together for 40 + years, you know in an industry like that staying together for that long means they must have been undeniably heading over heels in love with each other. How special to find that. There really is no force quite like love.
50 First Dates
A super funny, quirky, romantic comedy starring Adam Sandler and Drew Barrymore. These two seem to have an off the charts on-screen chemistry. They have done several movies together and all of them are really cute. You could almost think they were together in real life, they are not through their just really good friends. OK with me, keep bringing these blockbusters buys!
Drew's character got in a car accident and loses her short term memory making her wake up each morning thinking it the same day. But you cant keep a good girl down.
Adam Sandler's Character finds a way to persuade her every single day to fall in love with him like its the first time they met. That is devotion, that is love. Her dad is trying to create a lie every day and pretending it the same day, but in the end, Adam Sandler's character makes her a movie she wakes up to watch every morning when she wakes up. If that's not love I don't know what is.
Wall-E
This is a super cute movie of a robot love story.
Is the end of the world but these two still find love. Pixar actually does come pretty hard with emotional detail in their movies Even though these are kid movies every one of them comes with a wholehearted message. Not always romantic, but when you can take two robots and sell their love you're doing something right.
Phantom Of The Opera
Well, here is a love that was so deep that the phantom kept his conquest locked away only for himself.
Phantom of the Opera was originally a play and is always musical.
Crazy.Stupid.Love
It is always really cool when you're watching a film and you are thinking one thing is going on the whole time and then later on in the movie everything connects in a way you hadn't even thought of.
This is another movie of cosmic connection and intertwining love. The craziest, stupidest kind of love.
There really is no black and white when it comes to something as complex as love and I would say movies like this can really express that. It's messy, it's unpredictable and it seems like its that way for every one of us. All we can really do is live every day and try our hardest to love as much as humanly possible.
40 Year Old Virgin
This comical movie about a 40-year-old virgin finds a way to both be romantic and goofy. Steve Carrell is one of the top comical geniuses of our time, he delivers with every role he does.
40-year-old virgin is a film about a man that somehow is just too awkward to actually follow through with going all the way with a woman.
Still, after 40 years he walks into a store and meets his soulmate, dates her hiding the fact that he's a virgin up until she assumes has a weird murderer type because of all the strange behavior. I don't know too many women that would be willing to be a 40-year-old man's first conquest, but hey that's love.
When We First Met
This Netflix movie is a pretty new selection, but still quite romantic all the while. movies these days can actually be quality despite what some older folk may think.
The main character in this film is madly in love with a girl he believes he is meant to be with, so much so that he actually travels back in time to the moment they first met. Seem like it was cosmically meant to be right? He continues to take pictures in a magical photo booth that show him fate cannot be changed, it is all so much bigger than that.
Well, it turns out in the end that he is actually meant to be with her best friends, the one he has been connecting with all along it just took a while to figure it out.
Splash
This classic tale is a bit like The Little Mermaid. Everybody loves mermaids a little bit, right? I know I do, they have a certain intrigue, I think about Sirens and how they lure men into the water leading them to their eventual death. This movie, however, is a lot lighter than the old myth of sirens.
The mermaid in this story, of course, is lucky enough to make it out of the water and walk on land, she meets her leading man played by young Tom Hanks and they fall madly, head over heels in love.
Tom's character eventually finds out the truth, that she is a mermaid and still, still continues to love her all the same. So sweet!
Speaking Of Tom Hanks……Cast Away
Although this is definitely not your traditional romantic film of any sort, there is still a powerful portrayal of love and that there are all different kinds.
Tom Hank's character gets stranded, washed ashore on an island after an almost fatal plane crash. He finds a way to survive through the toughest of times and makes the best friends along the was, Wilson.
Wilson is a volleyball, yet still makes into the heart of his partner in solitude. This movie comes to a pretty tragic ending, with Wilson getting lost but never forgotten. This also shows that no matter what our situation, how alone or connected we are, humans search for a love one way or the other.
So guys, get your girls together and plan a romantic date night just for your special someone. Maybe take a seat on that comfy couch and enjoy watching one of these all-time great romantic movies now that you know of so many of them!  Everyone wants to meet that person for them and if you are lucky enough to have them already, hold on tight and don't let go.
Last Song  Or Any Nicholas Sparks Movie In General
Nicholas Sparks is seemingly the god of the romantic film industry. Any film he makes can bring you to tears and make you feel like a 9-year-old little girl dreaming about your wedding day, in other words, it turns you into a mushy gushy, cheesy shmuck. But, there is a need for that and Sparks is delivering the best of it.
The special part of this movie specifically is that it ignited the fire that is Miley Cyrus and Liam Hemsworth. These two got engaged quite quickly after meeting during the filming of Last Song.
Needless to say, they have had a couple questionable moments over the years of whether or not they would stay together for long-term but this adorable couple has made it through and is currently set to wed.
Their romance in this movie is a classic story of summer love, the girl from New York that meets the man of her dreams while on vacation visiting her dad. Why do these films have to tear apart the small cracks where the hopes of a crazy summer romance live? We all have these parts of ourselves that we cant show, or better yet we really do not want to show to the world, that does not mean they don't exist all the same.
Sweet Home Alabama
This super sweet Southern film depicts what its like to leave your hometown and your first love for something bigger but realize down the road that what you had already was what you really want.
Reese Witherspoon does an amazing job as per usual.
There is of course also many symbols of romance that Hollywood has created, for example, the Empire State Building is now thought of has the epitome of romance. Women and most likely men as well, dream of being taken to that iconic building and kissed at the top with the stars shining above you or in that city the lights around you is a little more likely.
Do You Believe In Magic
There is no force quite as strong as love. Love can change the world and it has in the past. If you look at the greatest humans to grace our planet, they all worked through love. Gandhi, Martin Luther King, Mother Teresa, the Beatles!
Well, we have now gotten a decent look at some of the all-time greatest love stories. We can dream can't we? Thank you to all these actors, writers, directors for their passion and artistry. Many of us would never even know what romance can be without these films. We might never know that the person we are meant to be with is just that, there is no explanation or reason behind love. It is intangible, something to be felt and not seen, not captured.
If it was possible though to capture the essence of love in a jar, I can say one thing for sure  I would bust it out whenever someone is acting hard.
So I hope that's helped to give you the daily dose of lure we all so desperately need, and for any of you those cynics out there I hope this has reached some of the iciest parts of your hearts and gave you a little tingle. Do you have any favorite romantic moments in movies that haven't been mentioned in this article? Comment on Facebook and let the world know… let's spread love ladies!