Let's be honest, we all enjoy a bit of nostalgia every now and then, and what's more nostalgic than reminicing about the youthful faces we gazed at from our screens weekly when we were kids? Well prepare to take a stroll down memory lane as I bring back 13 of my favourite faces from "back in the day". We all loved them back then, but the question is where are they now?
1. Jonathan Lipnicki
You may remember this sweet little face as Ray Boyd; the precocious and lovable little kid in Jerry Maguire. You may also recognise him from such films as Stuart Little, Stuart Little 2 and The Little Vampire. It's hard to believe it's been over 20 years since we were introduced to the adorable Jonathan Lipnicki, but what has he been up to recently? Well, after taking a break from the Hollywood Lifestyle he is slowly making his way back onto our screens with roles in various tv series and films such as Monk and Interns of F.I.E.L.D. He's also been keeping himself busy by learning the art of Brazilian Jiu Jitsu. More recently he appeared on a UK tv series called Celebs Go Dating, on which he very quickly became a fan favourite thanks to his kind hearted nature and signature cheeky smile.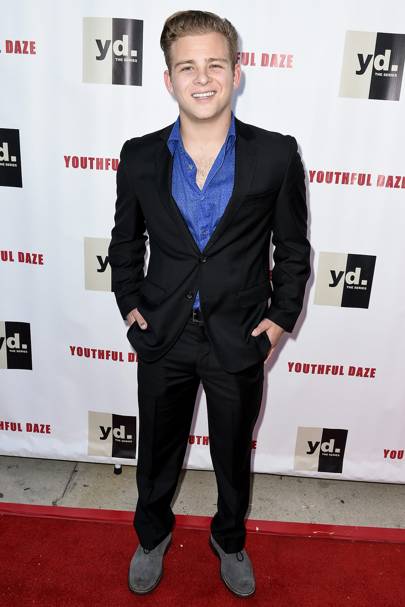 2. Dante Basco
Who could forget Rufio, the owner of the coolest haircut of the 90s? Despite not being his first role, Basco's most notable was definitley Rufio (I know you're chanting his name in your head already) from 1991's Hook, which starred Robin Williams. But what became of him after his incredibly emotional death scene? You'll be happy to hear that he still kept swinging from the Hollywood vines and took an interest in voiceover work. You may recognise him as various characters in The Goofy Movie or as Zucko in popular series Avatar: The Last Airbender. He has also appeared in shows such as Entourage and Community… But he'll always be Rufio to me!
3. Anna Chlumsky
Remember the adorable little girl who played Macaulay Culkin's best friend in 1991's My Girl (a.k.a one of the saddest comedies of all-time), well now she's all grown up! As most child actors seemed to do, Anna Chlumsky took a short hiatus during the 90's up until the early 2000's, but now she's back and better than ever! She's since appeared in a few hit series such as 30 Rock, White Collar and Hannibal. More recently however she's had herself a long standing role in America's political satire comedy series Veep in which she plays Amy Brookheimer. This role has also earned her three consecutive Emmy nominations!
4. Ron Howard
Ron Howard has been in this business since the days of the The Twilight Zone back in 1959, but is probably most memorable for his role as adorable reheaded Opie in The Andy Griffiths Show, and then of course as Richie Cunningham in the sitcom Happy Days. Maybe right now you're thinking you've barely seen him since, but I promise you you'll definitely be very familiar with his work over the years. A Beautiful Mind, Apollo 13, Splash, Arrested Development… sound familiar? Well guess who directed these critically acclaimed masterpieces… that's right, our very own little Opie!
5. Liesel Pritzker Simmons
Liesel Pritzker Simmons (stage name Liesel Matthews) is best known her for starring role as tenacious Sarah Crewe in The Little Princess. Despite also appearing in Air Force One as the presidents daughter next to Harrison Ford, her acting career was mostly short-lived and unsuccessful. Don't feel too sorry for her though, she may never have won an Oscar but she is an heiress to the Hyatt Hotels fortune with a current net worth of $500 million. Not the worst consolation prize really, is it?
6. Maureen McCormick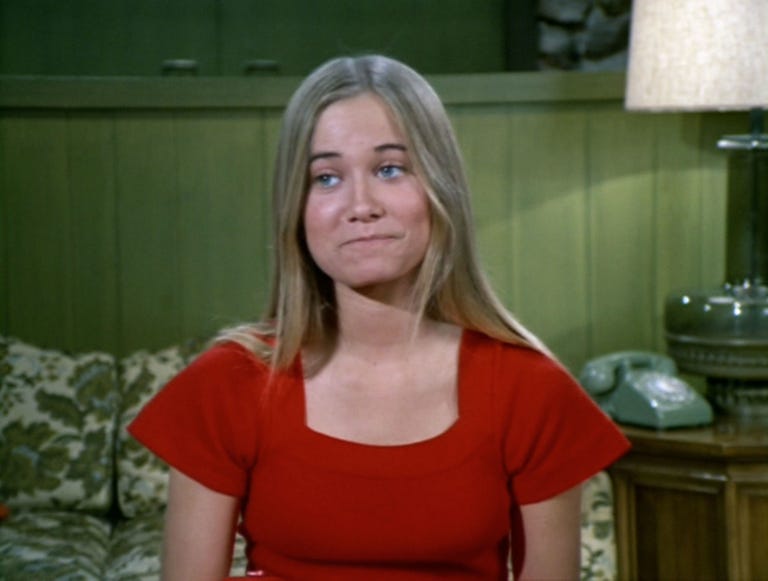 Even though she also appeared in shows such as I Dream of Genie and Bewitched, I think we can all agree that Maureen McCormick's most iconic role was as The Brady's beautiful eldest daughter Marcia in The Brady Bunch. Ironically, after playing the role of a daughter growing up in a blended yet wholesome family, in 2008 McCormick published her autobiography which she entitled; "Here's the Story; Surviving Marcia Brady and Finding My True Voice". The book was controversial yet widely read, which detailed her difficult experience of growing up portraying one of the most famous characters of the 1970s.
7. Bug Hall
You probably think of little Alfalfa aka Bug Hall every time you hear the hit song You Are So Beautiful, I know I do! But where is he now? Sadly he never quite got a record deal, however he did make a few onscreen appearances in the likes of The O.C., 90210 and CSI. He also played Jack Downey in Disney's Get a Clue (2002) next to 13 year-old Lindsay Lohan.
8. Brittany Ashton Holmes
Another famous face from 1994's The Little Rascals. Brittany Aston Holmes played Darla, the object of Alfalfa's (Aka Bug Hall, see above) affection. Holmes also appeared as Amy Carter in Inhumanoid but shortly retired from a life on camera in 1996. She currently resides in Los Angeles and is working on getting a degree in political science. Good luck Brittany!
9. Corey Feldman
With starring roles in hits such as Gremlins, The Goonies, Stand by Me and The Lost Boys, it's easy to say that Corey Feldman was one of our favourite 80's heartthrobs. He has so far sustained a 35-year as a steadily working actor and has at least 80 films under his belt today, so it's not exactly hard to find out what he's up to now. Feldman is a huge animal rights activist and has appeared in a Peta ad with former wife Susie. Between 2007 and 2008 and also shot a short-lived Reality TV series with fellow 80's star Corey Haim entitled The Two Corey's. 
10. McCaulay Culkin
Next we have one of the most recognisable faces of the 90's, McCaulay Culkin. Super Child Star Culkin has a rich tapestry of work behind him starting off from an early age including such titles as My Girl, The Pagemaster, Richie Rich, Uncle Book and of course, the Home Alone movies. He even appeared in Michael Jackson's Black and White music video! But then all of a sudden he just seemed to vanish into thin air. Where did he go? What did he do? Well understandably the poor thing needed a break. He retired at the age of 14 but returned in 2003 with a small role in Will & Grace. He also played the wheelchair-bound Roland in 2004's Saved! and has been picking up roles here and there ever since.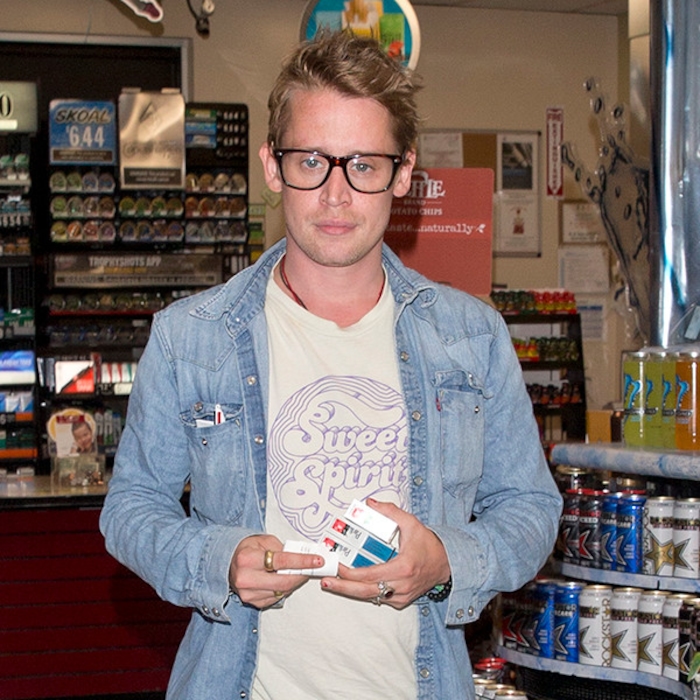 11. Tia & Tamera Mowry

I don't know about you, but I never missed an episode of Sister, Sister. Between the years of 1994 to 1999 Tia & Tamera Mowry (Who are identical twin sisters in real life… no, really!) played identical twins who were separated at birth and accidentally found each other at the age of 14. These days Tia is back at the Nickelodeon studios starring in the channels current hit show Instant Mom. You can still find Tamera on your screens too, hosting popular talk show The Real, and the've also written a book together entitled Twintution, a story of how two tween twins discovered they had psychic abilities!
12. Danielle Fishel

On a scale of 1 – 10, how envious were you of Danielle Fishel's hair? Although she had also made appearance's on such shows as Harry and the Henderson's and Full House, Fishel is best known for her iconic role as head-strong, beyond-her-years Topanga in Disney's Boy Meets World. Well, talk about a career coming full circle! Danielle Fishel is currently back in her role as Topanga, although this time she's Mrs. Matthews and plays opposite her former co-star Ben Savage (aka Corey Matthews, childhood sweetheart) in the show's modern-day spin off Girl Meets World. Who would have thought!

13. Tatyana Ali
I think we can all agree that Tatyana Ali is best known for her starring role next to Will Smith in the hit 90's show Fresh Prince of Bel Air, but did you know that before playing Ashley Banks she actually got her start on beloved kids show Sesame Street? She appeared on a variety of segments from the year 1984 up until 1989 with celebrities such as Dizzy Gilespie, Sid Caesar and Herbie Hancock. But what happened next? Well after finishing Fresh Prince this wonderful woman went on to get her bachelor's degree in African-American Studies at Harvard University! She's also made a couple of  appearances in shows and movies such as Love That Girl, Glory Road, Jawbreaker and Glory Road.

So there we have it, a small selection of our favourite childhood faces who have all grown up and gotten on with their lives just like we have. Feeling old yet? Some stayed in the limelight, some got themselves an education and some opted for a quieter life outside of the public eye. I'm sure there are plenty more you can think of to add to the list, so why not try and do a little detective work of your own? If this article is anything to go by, you never know who or what you might discover! Happy hunting!