Daily Feed is the home of social first news and entertainment. From celebrity gossip to nostalgia, our unique content is guaranteed to intrigue and inform. If you enjoy the following article please share with your family and friends.
Prince George: that guy is a little style icon, and he hasn't even hit school yet.
Yes, just like his mom Kate Middleton the Duchess of Cambridge, people all over the world look to Prince George for style tips. With parents as fashion-conscious as they are, it's no surprise.
Excitement must be building in the royal household since little George is about to start at school in September! He's a fashion icon, and he isn't even out of short trousers yet…
Which is what has got people talking!
Have you ever noticed that Prince George, on basically every photograph you ever see of him, is wearing shorts?
Bet you never even thought of it until now, but the evidence is pretty undeniable. Come rain or shine, from winter through summer, there's Prince George dressed in shorts.
Here he's wearing shorts with long socks and a long coat, but still not full-length trousers?
Not sure how pleased he is about the whole situation!
Well even if you've never really thought about it, some people are really hung up on it!
You can't tell, but he's definitely wearing shorts here. Totally shorts.
Anyway, there are even folks who think they've worked out the reason behind the little tyke always rocking a pair of shorts.
In an interview, etiquette expert William Hanson said: "Trousers are for older boys and men, whereas shorts on young boys is one of those silent class markers we have in England".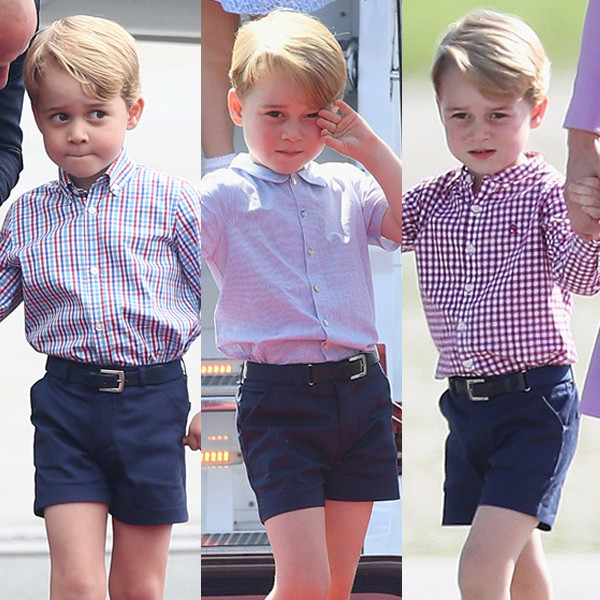 So like everything seems to be in England, it's all to do with class!
It is considered 'suburban' or 'middle-class' for a young boy under the age of 8 to be seen wearing trousers, thinks the etiquette expert. As we all know, there is nothing 'middle-class' or 'suburban' about the royal family!
By this reckoning, Prince George won't graduate to wearing full-length pants until the age of 8!
You know what, now you mention it, I think people are onto something here! He really never seems to be wearing anything other than shorts!
I would never have guessed that was the reason behind the royal's fashion decisions though!
Well, now I know!
Plus, did you know that it's a tradition that runs in George's family?
See, Prince George's father Prince William and his uncle Prince Harry, both wore shorts exclusively up until they were around that age.
You can see them smartly dressed in shorts as youngsters here in this adorable picture with Princess Diana.
Wow! Well, I guess that settles that argument!
Do you agree with only dressing a small child in shorts until they're older? Surely that's cold in the winter right?
Or maybe you think the etiquette expert has it all wrong, and it's nothing to do with class? Perhaps we should all butt out and let his parents dress him however they see fit! Next, we'll be asking why Princess Charlotte is always wearing freakin' shoes!
Whatever your view, let us know with a COMMENT and don't forget to SHARE with your friends and family! Thanks!