It's no mystery why people of Hollywood get together.  I can't imagine working so closely with another person without developing feelings for them. Especially if the two of you portray a couple in a movie.  However, once the lights fade and the memory of working together becomes a 2-hour footnote in the history of Hollywood, then reality sets it and that's when most of these relationships fail.  Unless, of course, you are Goldie and Kurt!
These two have been going strong for 34 years!
These days it seems like nothing was made to last, especially relationships in Hollywood are if all of them are cursed. I imagine it has a lot to do with being in the public eye and trying to find that fine line between your public life and your private life.
The pressure of all that scrutiny must be difficult to endure and so it seems that many of these relationships are doomed from the start.
 
But thankfully there are a few golden relationships that prove us wrong.
There are a few Hollywood A-listers who have managed to balance a happy life with the person they love and cherish along with a successful career.
When this happens, we are renewed with hope once again that there is such thing as true love in Hollywood and honestly, there is no better example of this than Goldie Hawn and Kurt Russell.
While Goldie's first two marriages which ended in divorces, she ended up finding her match in Kurt Russell.
The pair first met in 1968, on the set of The One and Only, Genuine, Original Family Band. Goldie is very honest that she almost instantly developed a crush on her co-star, but once filming had wrapped, the pair went their separate ways.
Each of them moved on to develop their own outstanding careers.
It was until 1983, on the set of Swing Shift, that they became an item, now that their age difference was not an issue.  When they first met, she was 21 and he was just 16. However, now that they were older, they fell deeply in love and the couple has been inseparable ever since.
They even worked on one of my favourite movies together, 'Overboard'. What a pleasure it was to watch them in this movie because in the movie, she initially had no feelings for him and then she grew to love him very much.
'Overboard' was a movie that they both starred in together in 1987.
It's always fun for audiences to experience their talent and recognize the fact that they are in love in real life.  Finding this balance is key to a successful marriage AND career in Hollywood!
Now, Goldie Hawn and Kurt Russell have both earned a life-changing honour.
Both of them are getting a star on the Walk-of-Fame after working incredibly hard during their long and successful careers!
For almost 34 years they have supported each other. Not only when it came to their careers, but their home lives too! The pair made an outstanding set of parents to their famous kids, Boston, Oliver, Kate, and Wyatt.
They can often be seen together at public events.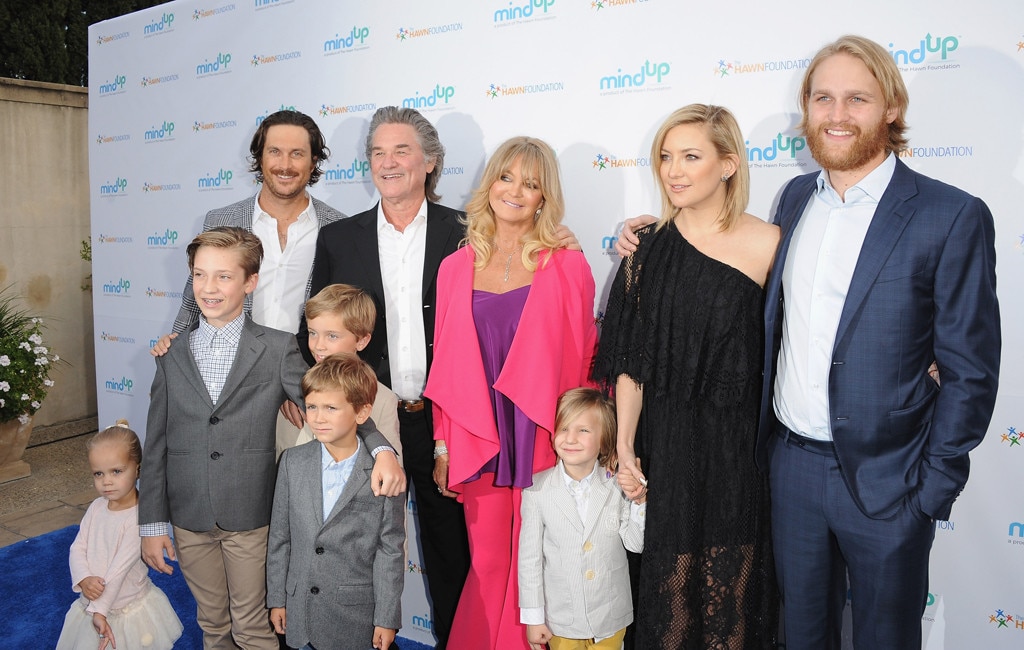 For those of you who don't know what the Hollywood Walk-of-Fame is, it's an 18 block tourist attraction which features the names of some of Hollywood's biggest stars. The Walk-of-Fame was created during the golden era of film, back in 1960.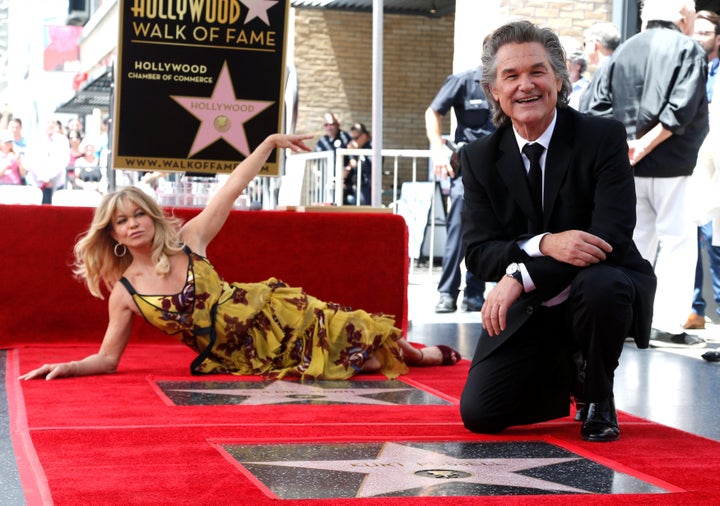 Also, getting a star on the Hollywood Walk-of-Fame is a huge honour.  What better way to celebrate it than getting them at the same time!  They must have been thrilled!
More Hollywood names being added each year to this major attraction!
It's estimated that over 10 million people visit this famous Hollywood attraction each year! To have your name featured on the walk is a big honor for any celebrity. You can image tourists taking photos of their favorite celebrities as they walk along the history of Hollywood.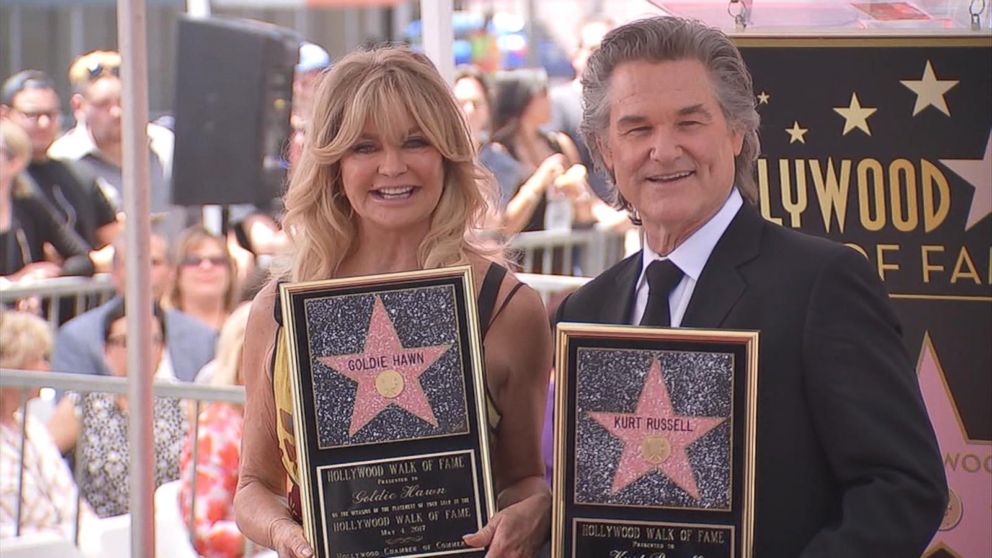 Now, the couple gets to be a part of that history together.  It seems appropriate considering their contributions to the industry both individually and together.  However, we all like it better when they are together!
It's true the couple is not married, but their Walk-of-Fame ceremony became an impromptu ceremony that celebrated their legacy of love.
When Kurt Russell took the podium during the ceremony he thanked Goldie for all his accomplishments in his life:
"Goldie to you, I owe my wonderful life … All of the stars in the sky or on the boulevard don't hold a candle to that … So if I am to be honored with this sweet token of memorabilia that is to be sunk forever in the cement of a street whereupon I will be subjected to the constant harshness of the blazing California sun, blowing winds and pouring rains and stray dogs … and trod upon by the soles of shoes caked with earth from all corners of the globe, there's no one else I'd rather be next to for all of that than Goldie Hawn."
The two of them share a passionate kiss for the press.
During her speech, Goldie reminisced about when she first got to Hollywood with nothing but her dancing shoes.
During the ceremony Reese Witherspoon spoke about how Goldie influenced her own career:
"She changed the possibilities of what women can do in film. Thank you for making us laugh, she has lit up my life. She's changed my life and she's quite simply my idol. I love you Goldie."
Goldie Hawn is an extremely beautiful and hilariously talented woman.
Therefore, all of the kind words that were said about her only cemented the love that she has given us and to her husband Kurt.  The two of them are still going strong and are extremely happy with their lives and what they have accomplished together.  This is just the icing on the cake!
Here is a sweet video of the Walk of Fame ceremony showing the two still very much in love!
It's truly heartwarming!
Feel free to SHARE this incredible news with your friends and family!